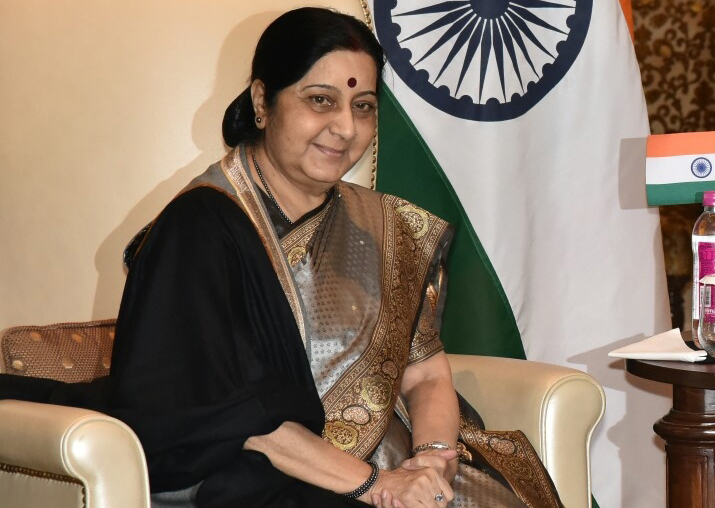 Amid tensions in bilateral ties between India and Pakistan over a host of issues including Kulbhushan Jadhav, a former Naval officer convicted of alleged espionage and terrorism, top leadership of both the neighbouring countries will come face-to-face in Russia's Sochi next week for the Shanghai Cooperation Summit (SCO) Summit. 
The SCO Summit will be held on November 30 and December 1 and it is likely to discuss the regional security scenario besides several other issues.
While External Affairs Minister Sushma Swaraj will represent India at the upcoming Summit, Pakistan is also likely to be represented by its Foreign Minister Khawaja Asif.
According to MEA, there was no proposal yet for any bilateral engagement between India and Pakistan on the sidelines of the SCO Summit. Swaraj will, however, have bilateral meetings with several other leaders on the sidelines of the event. 
Earlier this week, when MEA spokesperson Raveesh Kumar was quizzed whether Swaraj will have bilateral meetings with the Pakistan Foreign Minister, he had said that her schedule is still being finalised.
"At this stage we cannot say anything," Kumar had told reporters.
On whether India will raise at the Summit the issue of release of Mumbai terror attack mastermind Hafiz Saeed and the larger challenge of terrorism, Kumar said India has been working with like-minded countries to deal with the menace.
The development comes at a time when New Delhi is in the middle of intense negotiations with Islamabad to facilitate a meeting between Kulbhushan Jadhav and his wife and mother. India wants Pakistan to allow Jadhav's mother and an diplomat to accompany his wife.
In June, India along with Pakistan had become a full-fledged member of the SCO, a China-dominated security grouping which is increasingly seen as a counterweight to NATO. While India's bid was strongly backed by Russia, China -- considered Pakistan's all-weather ally, had made possible for Islamabad to join the grouping.
As an SCO member, India is expected to have a bigger say in pressing for concerted action in dealing with terrorism as well as on issues relating to security and defence in the region. India had been an observer at the SCO since 2005. It has generally participated in the ministerial-level meetings of the grouping which focus mainly on security and economic cooperation in the Eurasian region.
Meanwhile, Chinese Premier Li Keqiang will lead the Chinese delegation at the Summit.