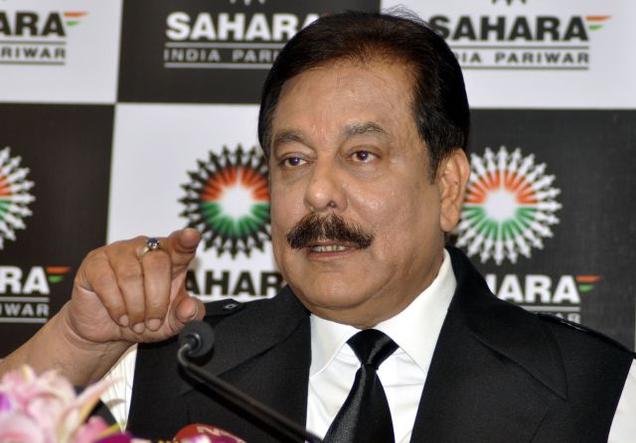 The Supreme Court today extended the interim parole of Subrata Roy till November 28 after Sahara Group deposited Rs.200 crore today and promised to deposit another Rs 200 crore by November end.     
The apex court had on Thursday advanced the hearing on the request of the Sahara Group after being informed that the group would deposit Rs 200 crore on Friday.
The hearing was originally scheduled for October 24.
Seeking that the hearing be advanced from October 24 to October 21, Sahara Group's senior counsel Sibal told the court that Rs 200 crore that the Sahara Group was to deposit by October 23 would be deposited on Friday.
The group's two companies -- SIRECL and SHICL -- had collected the money from investors through Optionally Fully Convertible Debentures (OFCDs) in 2008 and 2009.
"We will be happy to hear it," the bench observed as Sibal, appearing for Sahara Group chief Subrata Roy told the bench, "Rs 200 crore that was to come on Monday, it will come on Friday."
The apex court bench of Chief Justice T.S. Thakur, Justice Anil R. Dave and Justice A.K. Sikri had on September 28 asked the Sahara Group to deposit an amount of Rs 200 crore by October 24, as it extended its interim order releasing Subrata Roy and two other directors on parole.
The court had in the last hearing said that any failure to pay Rs 200 crore before October 24 would result in Roy and two other directors of the Sahara Group going back to jail.
Roy was granted parole on May 6 this year to attend the last rites of his mother who had passed away on May 5. Besides Roy, his son-in-law Ashok Roy Choudhary too was released on parole.
Sahara Director Ravi Shankar Dubey was released on parole on July 11.
Subrata Roy, Ashok Roy Choudhary and Ravi Shankar Dubey were sent to judicial custody to Tihar Jail on March 4, 2014, for the failure of the Sahara Group's two companies -- Sahara India real estate corporation (SIRECL) and Sahara Housing Investment Corporation Ltd. (SHICL) -- to comply with court's August 31, 2012, order on repayment of depositors' money.
The apex court by its August 31, 2012, order had directed the SIRECL and SHICL to return investors' Rs 17,600 crore with 15 per cent interest that the two Sahara entities had collected through OFCDs.
The amount, according to Securities and Exchange Board of India (SEBI) counsel, now stands at Rs 36,000 crore.
The court has asked the market regulator SEBI to sell Sahara properties to mobilise the money.
At the last hearing, the court sought Sahara's explanation on the market regulator's application that most of the properties given by Sahara for auctioning were attached by the Income Tax authorities and there was no point in going ahead with the second round of their auction.
(With IANS inputs)