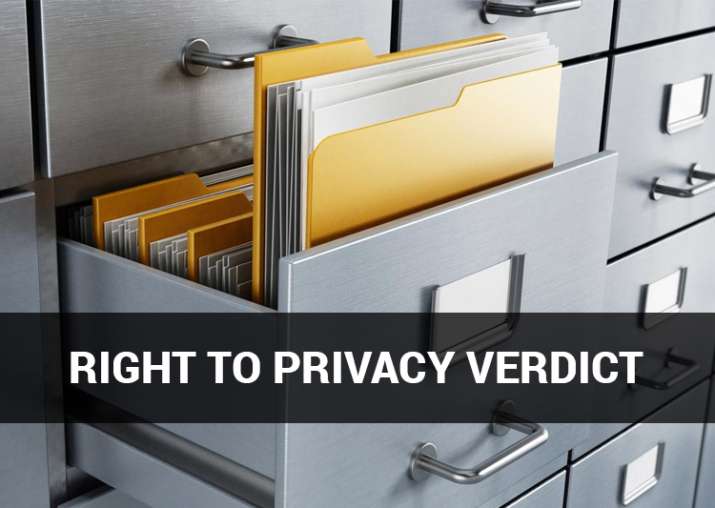 The Supreme Court today held that right to privacy is a fundamental right and an integral part of the right to life and liberty. The ruling by a nine-judge bench headed by Chief Justice JS Khehar will have a bearing on the challenge to the validity of the Aadhaar scheme on the grounds of its violating the right to privacy.
While the Centre had argued that right to privacy is not a fundamental right, the petitioners had contended that when a citizen gives his biometrics and personal details to the government, and when in turn, it is used by commercial organisations, it is a breach of privacy. 
The judgement was limited to the issue of right to privacy and the question whether Aadhaar violates right to privacy will be dealt with the five-judge bench which has been hearing the petitions since 2015. 
The SC bench unanimously overruled the two earlier judgements of the apex court that right to privacy is not protected under the Constitution. The bench overruled the M P Sharma verdict of 1954 and that of Kharak Singh of 1962. 
Here are some reactions to the SC decision:
# Govt welcomes the SC order on right to privacy. SC has affirmed what government had said in Parliament while moving Aadhar Bill. Privacy should be a fundamental right subject to reasonable restrictions: Union Law Minister Ravi Shankar Prasad
# SC verdict on right to privacy strikes at "unbridled encroachment and surveillance" by the State and its agencies on the life of the common man. Congress and opposition together spoke for right to privacy against "arrogant" attempts of BJP govt to curtail them: Sonia Gandhi
# We welcome this verdict by Honourable Supreme Court Right To Privacy is a Fundamental Right, says Mamata Banerjee 
# Government of India was ill-advised to oppose this right to privacy for the reasons that today more than anytime in the past, the individual's privacy need to be protected but no right is absolute. To pass the test of privacy, any law framed must be constitutionally valid. It must be need-based and it must be proportionate to the abridgement sought to the right to privacy consistent with actual need:
# Apart from this, data relating to the individual also needs protection and it is the legitimate expectation of individuals parting with their data to secure that protection. The state needs to frame data protection law to ensure legitimate expectation of individuals.
# This failure of the government reflects its narrow-mindedness on issues relating to individual freedom. Individual house, marriages, sexual orientation, right to space, right to move freely, right to eat what an individual likes, right to be left alone are protected both within the home and at public places to the extent necessary: Kapil Sibal of Congress
# Welcome the SC verdict upholding Right To Privacy as an intrinsic part of individual's liberty, freedom & dignity. A victory for every Indian. SC decision marks a major blow to fascist forces. A sound rejection of the BJP's ideology of suppression through surveillance: Rahul Gandhi 
# Privacy is a fundamental right. The freedom that was won in 1947 has been enriched and enlarged. Privacy is the core of personal liberty. Article 21 has acquired a new magnificence: P Chidambaram‏, former Union minister 
# The verdict is a warning of institutions of democracy to government of PM Modi. Hope cheer leaders remember the govt aggressively opposed Privacy Right before Court. Shall await ministers congratulating the PM for this, says Salman Khurshid of Congress 
# Path breaking and seminal judgement. A great victory for liberty and freedom. The Supreme Court rejects Modi government's attempt to whittle down the right to privacy: Congress spokesperson Randeep Singh Surjewala
# Congratulations to all lawyers, activists, others who fought this government's sinister designs to deny Indians their fundamental right to privacy. A far-reaching judgement which will have consequences in various domains, as technology is playing a greater role in our day-to-day lives. This judgement will pave the way for securing our rights: CPI-M leader Sitaram Yechury
# Thank you Supreme Court for this very important judgement, says Delhi Chief Minister Arvind Kejriwal
# I am glad as the world moves towards digitization, citizens must have rights against misuse of info, says petitioner R Chandrasekhar
# This is a setback for the government because it goes against its stand on privacy. If the government asks for Aadhaar for booking railway tickets or if you buy something then such a law would be considered as unreasonable restriction on Right to Privacy. I feel it will be struck down: Prashant Bhushan, lawyer
# SC delivered another historical verdict (after triple talaq) declaring right to privacy as a fundamental right of the citizens: Sanjay Nirupam of Congress
# SC upholds the right to privacy. Nothing vague or amorphous about it. People thank the Honourable Judges. These are moments that make India: Kamal Haasan