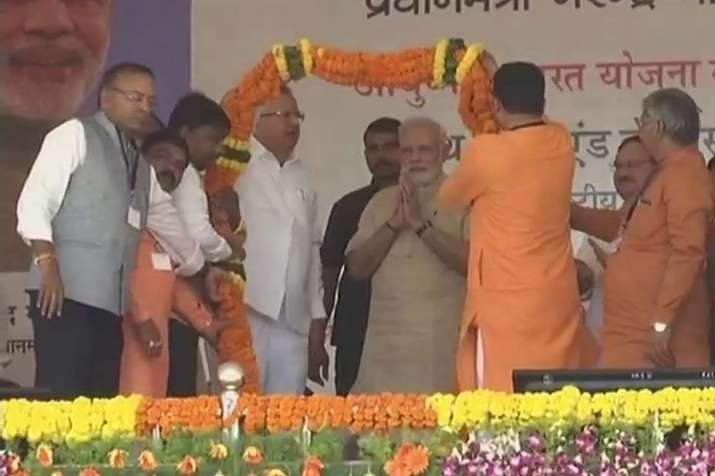 Prime Minister Narendra Modi on Saturday inaugurated the first health and wellness centre in Chhattisgarh's Bijapur under the ambitious Ayushman Bharat Scheme. Speaking during an event to mark the launch of the medical scheme, which is being touted as the world's biggest health scheme, PM Modi hailed the contributions of Bhimrao Ambedkar in the upliftment of the deprived sections of the society.
Addressing the gathering, PM Modi credited his rise to the top post to Ambedkar. "If a person like me is the prime minister of the country, it's all because of contributions of Baba Saheb," PM Modi said. Modi's visit to the naxal-affected region coincided with the 127th birth anniversary of BR Ambedkar.
Stressing that the BJP government is committed to help the backward sections of the society to join the mainstream, Modi said, "Your government at the centre is committed to dreams and aspirations of people." 
" If Bijapur can see development in 100 days then why can't the other districts witness the same? I came here to assure you that with all the development projects now Bijapur district will no longer be known as a backward district," he added. 
"I salute the security personnel who are playing an important role in infrastructure development in Chhattisgarh," he said.
#Chhattisgarh: Prime Minister Narendra Modi launches India's first wellness centre under Ayushmaan Bharat and lays foundation stones of various projects of central & state government in Bijapur pic.twitter.com/QL0pvzpGjr

— ANI (@ANI) April 14, 2018
About the Ayushman Bharat Scheme
Under the Ayushman Bharat Scheme, which is expected to benefit nearly 50 crore people, the government aims to open 1.5 lakh health and wellness centre by 2022, which would be equipped to treat host of diseases, including blood pressure, diabetes, cancer and old-age illness. 
Also under the scheme, the government has prepared the broad contour of the National Health Protection Scheme (NHPS) and work is on to finalise parameters for identifying beneficiaries and hospital entitlement.  
Apart from this, PM Modi, who is the first prime minister to visit the tribal district of Bijapur, also inaugurated the first phase of the Bastar Internet scheme under which a 40,000-km-long network of fibre optics cable would be spread across the seven districts of the tribal region. 
The PM also inaugurated a new rail line and a passenger train between Gudum and Bhanupratapur, bringing north Bastar region on railways' map.