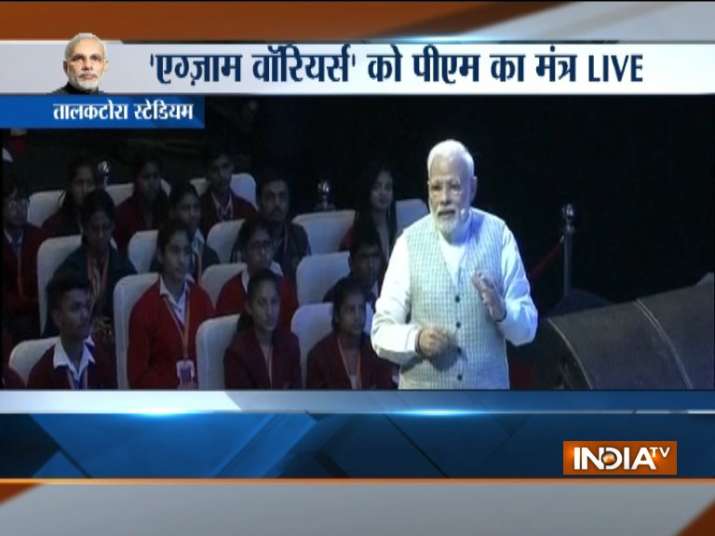 PM Narendra Modi held a unique 'Pariksha Pe Charcha' programme at Delhi's Talkatora stadium and connected with lakhs of students across the country via video conferencing. FULL COVERAGE ON PARIKSHA PE CHARCHA
During his address, the prime minister answered questions sent by students via the Narendra Modi app, the MyGov website and through social media by using hashtag #ExamWarriors. "Self confidence is a must during exams and it cannot be forced into a student by parents or by a lecture", the prime minister said in his address to students.
The prime minister has also authored a book titled "Exam Warriors". In his book, he has devised 25 mantras to help students deal with the anxiety during examinations, particularly those appearing for Boards and competitive exams.
PM MODI'S PARIKSHA PE CHARCHA WITH STUDENTS: HIGHLIGHTS
02:07 pm: One should take out the word career from his/her mind and focus on doing something for their own betterment.
1:56 pm: A viewer of India TV News, Gaurav has a question for the prime minister on how a student should select a career.
1:50 pm: Students should look upon their teachers as their friends, they must understand that they are like their parents.
You should eliminate the term 'career' from your mind and rather should focus on doing something for your own betterment: PM @narendramodi on Gaurav's question through @indiatvnews, on how a student should select a career #ParikshaPeCharcha #PareekshaPeCharcha #ExamWarriors pic.twitter.com/QpTifxWPcA

— India TV (@indiatvnews) February 16, 2018
1:40 pm: Kushagra from Shillong has a question on the bond between a teacher and student
1:39 pm: We need to pay attention to the small details around us, towards the people around us.
1:38 pm: Jai Mistry seeks the prime minister's views on effective time management and how it can improve exam preparation.
1:37 pm: Balanced development of IQ and EQ is very important for life.
1:32 pm: Bhavna Jalal asks the prime minister about the role of IQ and EQ in the life of a student.
1:30 pm: Once their kids reach the age of 18, parents should look upon their children as their friends.
1:27 pm: For students, one time table or a schedule can't be appropriate for the full year. It is essential to be flexible and make best use of one's time
1:20 pm: One must stop thinking about practicals, classes, theory, viva all the time, there is a world outside this as well.
1:19 pm: Once you understand that your parents will always guide you correct, you will be honest with them and will not study just to show it to them
1:17 pm: At times, you are gripped with the fear of pressure from your parents. Talking to them will help you overcome this.
1:14 pm: We should not doubt the intentions of our parents and should respect them, says the prime minister on pressure from parents and relatives during exams.
1:11 pm: My young friends, do not bother about how many hours your friends study. Think, you studied for a certain number of hours on one day, better that the next day.
1:08 pm: Concentration isn't something that has to be specifically learnt. Every person does concentrate on something or the other during the day, it may be while reading, hearing a song, talking to a friend.
1:08 pm: Deepshi Grover from Delhi has a question on how Yoga helps beat exam stress.
01:07 pm: Every student is special in his/her own way and so comparisons should be stopped at first.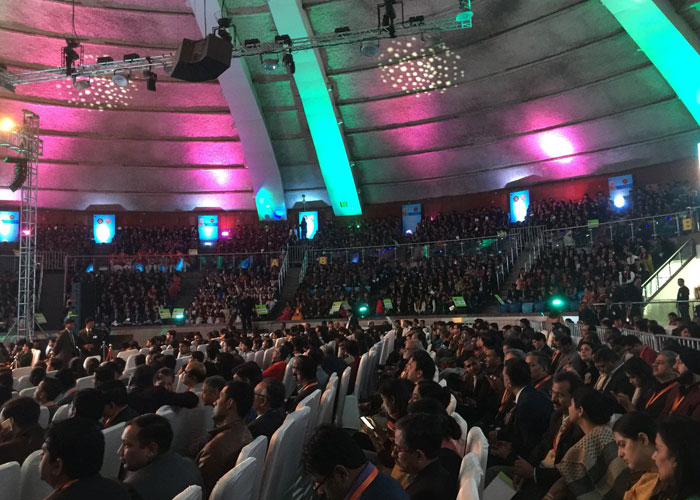 01:06 pm: When you compare yourself to another students, you try to fit yourself in their shoes.
01:05 pm: Your mind should constantly be 'online' (active), that is concentration
01:01 pm: Concentration is no art and you need to analyse how you concentrate on things that you like doing. The same technique needs to be applied while preparing for your exams.
You are not talking to the Prime Minister of India, you are talking to a friend, I am here as a student let us see how many marks will you give me out of 10: PM Modi at #ParikshaPeCharcha pic.twitter.com/vnsOlR0P00

— ANI (@ANI) February 16, 2018
12:59 pm: They do not realise that they concentrate on a number of things they do throughout the day, like listening to music or talking to a friend.
Students usually worship Goddess Saraswati, the goddess of knowledge. But on the day of exam, they worship Lord Hanuman: PM Narendra Modi at #ParikshaPeCharcha pic.twitter.com/dKshOlYGaO

— ANI (@ANI) February 16, 2018
12:58 pm: People believe in the myth that concentration is an art and that we need to learn it.
12:57 pm: Kanishka from Noida and Pranav Vyas from Varanasi ask PM Modi on the importance of concentration during exams and in life.
12:58 pm: In addition to the right skills and the means, what a student needs is self-confidence, says PM Modi
​
12:53 pm: A number of students have asked their questions to me in different languages but I apologise as I can't communicate in all languages
12:52 pm: Self confidence is a must during exams and it cannot be forced into a student by parents or by a lecture.
12:47 pm: Your hard work and preparedness will be of no use if you lack self-confidence.
12:43 pm: Self confidence comes by challenging ourselves and working hard. We should always think of bettering ourselves.
12:42 pm: Samiksha from Delhi, Harsh from Pune ask PM PM Modi question on the importance of self confidence and tackling exam stress.
12:40 pm: At the onset, you have to overlook that you are talking to the prime minister of the country, I am your friend, says Modi
​12:39 pm: The Swachch Bharat campaign started by me has inspired a lot of students.
12:39 pm: PM Narendra Modi is holding 'Pareksha Pe Charcha' with students at Delhi's Talkatora stadium.
12:24 pm: India lacks in innovation and that is why this issue has been stressed upon by the prime minister a number of times, says HRD minister Prakash Javadekar.
Dance performance by students at 'Pariksha Par Charcha', an interactive session by PM Modi with students at #Delhi's Talkatora Stadium. pic.twitter.com/FD3ZErdL4g

— ANI (@ANI) February 16, 2018
12:23 pm: At present, many opt for teaching when they don't get any other job but we will change it so that people choose to become teachers. We are introducing integrated B.Ed programme: Javadekar
12:23 pm: 10 crore students and teachers are watching this all over the country, says HRD Minister Prakash Javadekar
All set for #ParikshaPeCharcha. Several students to interact with PM @narendramodi during the programme, which will begin shortly. pic.twitter.com/FufdrTfV1P

— PMO India (@PMOIndia) February 16, 2018
12:21 pm: Earlier, Javadekar said that the prime minister during his address will tell the children how to give stress-free examination. The minister has also directed the state education ministers to relay the programmes in all schools and colleges. "I have recommended to education ministers of all states (except West Bengal) to relay the programme in institutions of learning at all levels," he said. 
WATCH FULL VIDEO: