Follow us on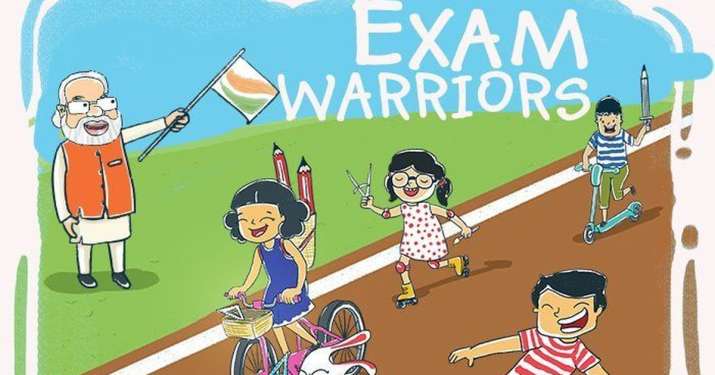 Prime Minister Narendra Modi, in his recently launched book 'Exam Warriors', has devised 25 mantras to help students deal with the anxiety during examinations, particularly those appearing for Boards and competitive exams. The book, dealing with exam phobia, is a quick guide for students to deal with the stress. 
PM Modi will also hold 'Pareeksha Par Charcha' at Delhi's Talkatora Stadium on February 16, where lakhs of students are likely to participate from across the country and ask him questions about how to take examinations without any worry. 
Here are 25 mantras PM Modi has come up with to help the young aspirants deal with the exam stress:
1. Asking students to celebrate exams like festivals with cheer and happiness, PM Modi tells students that examinations are meant to bring out the best in them. 
2. 'Exam Warriors', in its second chapter, reminds students that one particular test cannot define a person because life is so much more than that. Presenting Dr APJ Abdul Kalam as an inspiration, PM Modi tells students how the former President narrowly missed the opportunity of becoming a fighter pilot but he did not remain perpetually dejected.
3. In the third chapter of his book, PM Modi asks students to laugh their way into the exam hall and laugh out of it. According to the book, smiling fosters relaxation and with it comes the great ability to recall. 
4. The book emphasizes on the need for students to be warriors, and not worriers.  Praising Rani Laxmibai, PM Modi tells students how she chose to be a fighter when the imperialist forces were closing in during India's First War of Independence. The book also lauds the Indian Cricket Team that won the Blind T 20 World Cup in 2017.
5. In his fifth mantra, PM Modi asks students to pursue knowledge, and that the marks will automatically follow. Calling the journey of acquiring knowledge a rewarding experience, the chapter focuses on the need for students to gain knowledge so that no questions seem tough to them.
6. Consider yourself as your biggest competitor instead of competing with others, the Prime Minister urges students in the sixth chapter.  The chapter also mentions the famous athlete Sergey Bubka, who kept bettering his own world record for the men's pole vault not once or twice, but a record thirty-five times!
7. PM Modi also emphasises on time management and self discipline during the high pressure exam time. He believes every individual is blessed with unique abilities which are channeled through quality time management. He asks students to chart a plan of action for their exam preparation and decide how to best utilize twenty-four hours.
8. Giving out another mantra to students, the Prime Minister asks students to learn from the past and plan for the future but work in the present. The most important time is NOW, he says. PM Modi also remembered Sachin Tendulkar for his guidance to young students during one of the 'Mann Ki Baat' episodes. 
9. 'Exam Warriors' guides students to embrace technology as it is a great teacher. However, at the same time, he has asked them to not get addicted to it. Sharing his experiences, PM Modi tells he has benefited tremendously from technology and views it as a positive force multiplier. He also asks students of having some 'tech-free time' and 'tech-free zones'.
10. Rest is a must to do the best, the tenth chapter says. PM Modi asks students to take proper break from studies, listen to music, read a book, practise deep breathing, relax muscles or practise Shavasana. 
11. The eleventh mantra PM Modi shares with students is to sleep as it is a "great weapon."  For him, it is futile to sleep for any number of hours if that sleep is not sound.  A good night's sleep is the key to doing well in exams, he tells students.  PM also shares that his sleep cycle varies from four to six hours, depending on the workload. 
12. One who plays, shines, PM Modi's twelfth mantra says. He asks students to devote some time to outdoor games in the midst of intense studies to make preparations more effective. Playing has tangible benefits like intake of more oxygen, improvement in blood circulation, increase in stamina, he says.
13. Celebrate your strengths, 'Exam Warriors' focuses on this aspect asking students to trust their abilities and identify even the smallest of strengths.
14. The fourteenth chapter stresses on the importance of revision.  Revision sharpens what you have learnt and helps recall concepts systematically and easily, the PM says. He also identified debating and discussing particular topics as a useful tool for revision. At times, others can give us substantive feedback on where we are lagging behind, he says. 
15. PM Modi asks students to observe exam discipline as little things matter. He advises to students to pack their exam essentials the previous evening, acquaint themselves with the exam centre and to not be in a hurry to start write answers. He asks students to read the instructions and question paper properly. 
16. In the sixteenth chapter, PM Modi asks students to follow their own unique style while answering questions. He advises them to not get stuck on any one question, instead move to the next one. 
17. Presentation, one of the things students don't care much about, is highlighted as part of PM Modi's seventeenth mantra. Good presentation is like beautiful icing on your favourite cake as it enhances the taste and leaves a lasting impression, PM Modi believes. Proper space management, well organized content and neat handwriting make for good presentation, the chapter says.
18. "To cheat is to be cheap," PM Modi tells students in the eighteenth chapter.  Cheating is extremely harmful and gives a fake sense of accomplishment defeating the purpose of exams, he says.  The Prime Minister advises students to focus on human creativity over cheating and plagiarism.
19. Don't spend hours discussing the exam paper with family and friends as it a colossal waste of time and energy, PM stresses in his book. According to him, such discussions can take a negative turn that could harm your self-confidence and ability to prepare well for the next exam.
20. In this chapter, 'Exam Warriors' asks students to throw themselves at life as it is the best teacher. During exams, you lived to learn, now go out and learn to live, PM Modi says. He asks students to step out of their comfort zone and do things differently.
21. Talking about the Incredible India, PM Modi here asks students to go out and explore the unparalleled beauty and diversity of the country. He also reminds students to share a picture with him, using #IncredibleIndia.
22. Life is an endless journey, PM says. He asks students to make choices of subjects, courses and colleges after the board exams keeping in view their interest area. Take the road less travelled, he says.
23. "Aspire not to become something but to do something," this mantra of the prime minister truly has a deep meaning.  He asks students to think of how best they can make a difference to the society and let that ideal guide them. 
24. Be grateful to your parents, people you meet and all those behind your success, the chapter emphasizes. He also asks students to think of those countless people whom you've never met but who play a vital role in their life—the farmer who produces the food you enjoy.
25. Yoga is one thing PM Modi has been talking since he came to power. The last chapter too asks students to devote some time each day to practise yoga. With Yoga, Exam Warriors will be better prepared with their studies and more confident about life, he says