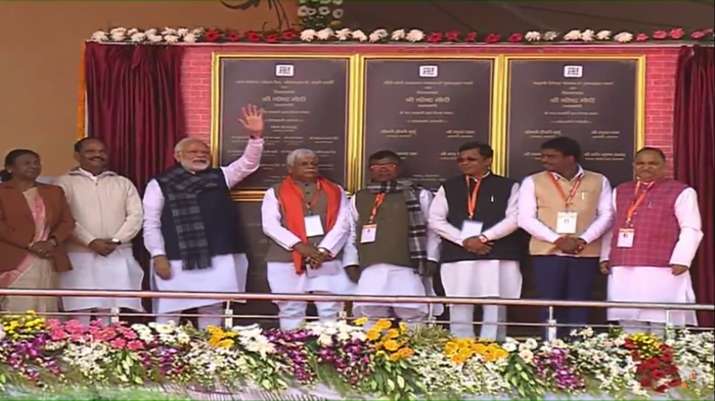 Prime Minister Narendra Modi today inaugurated the Rs 2,391.36 crore Mandal dam that will provide irrigation to 19,604 hectare in Palamau and Garhwa districts. The Mandal dam, work on which began in 1972, but has been stalled since 1993, will be built on North Koel river under Barwadih block in Latehar district, an official release said.
Jharkhand: Prime Minister Narendra Modi lays foundation stone of various development projects in Palamu. pic.twitter.com/Hmnl7jmny6

— ANI (@ANI) January 5, 2019
Taking a dig at previous governments, Modi said they were least bothered about farmers' welfare in Jharkhand, and the delay in completing the Mandal dam project was proof of that. "We consider farmers as 'annadata' (provider of food), unlike the previous governments who considered them as mere vote bank," the prime minister said. 
The prime minister also laid foundation stones for several key irrigation projects, including:
#Sone canal pipeline irrigation project worth Rs 1,169.28 crore
#Renovation and lining work of Bater Vier Irrigation Project
#Renovation of Bain Banki Reservoir Project
#renovation and lining work of Anjanva Reservoir Project
#Renovation and lining work for Brahmani irrigation project (in Chakradharpur block of West Singhbhum district).  
(With agency inputs)
Also read | PM Modi to address public rally in Odisha's Baripada, dedicate projects worth Rs 4500 crore