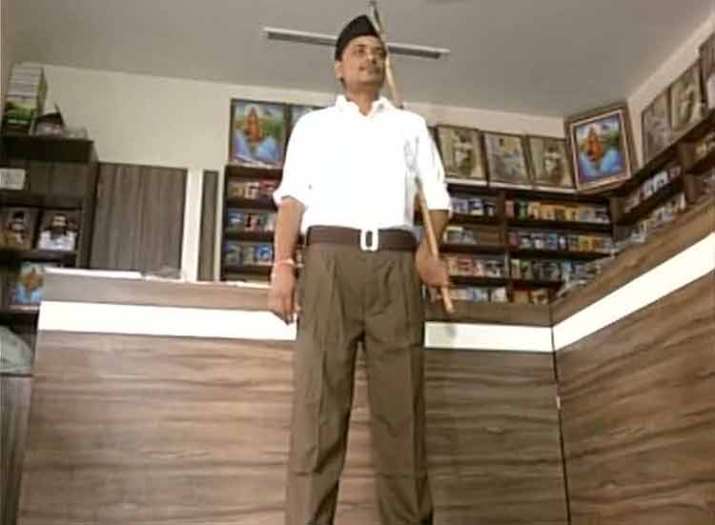 The Rashtriya Swayamsevak Sangh's new uniform was unveiled on Monday as its sale began near its headquarters in Nagpur. 
Brown pants, which are to replace khaki half-pants will be made available to volunteers for Rs 250. The RSS will officially shift to pants on Vijaydashmi on October 11 this year.
Khaki shorts have been the trademark of RSS dress for 91 years which were introduced at its inception in 1925. 
The significant makeover decision was taken in March at the annual meeting of Akhil Bhartiya Pratinidhi Sabha, the highest decision-making body of RSS. 
"We always move with the times. We are not rigid. No organisation which is not flexible cannot progress," said RSS general secretary Suresh Bhayyaji Joshi after the conclusion of the three-day eeting of Akhil Bhartiya Pratinidhi Sabha. 
Even though other parts of the uniform have been changed from time to time, khaki shorts remained in vogue till now. 
Initially till 1940, the uniform of RSS was khaki shirt and shorts before white shirts were introduced. Leather shoes replaced long boots in 1973 and later rexine shoes were allowed. 
"Pants are a regular feature in today's social life, so we took our decision accordingly... We are not orthodox. We realise the importance of time. We have changed many things from time to time. But this time, a major change has come," said Joshi, the second in-command of RSS. 
The decision is seen as part of attempt to increase the organisation's membership as khaki shorts is believed to have been a hindrance in this regard.