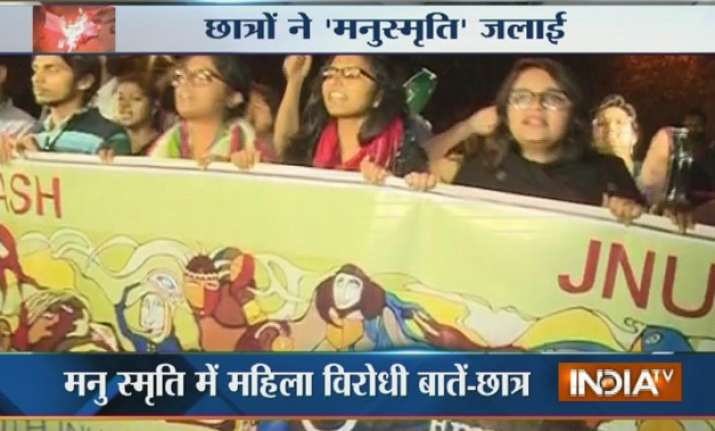 New Delhi: Weeks after the controversial event against Afzal Guru's hanging was held on campus, Jawaharlal Nehru University (JNU) students on Tuesday burnt a copy of the ancient legal text Manusmriti despite the varsity administration denying permission for the same.
The group, protesting at the Sabarmati Dhaba, had the members of ABVP rebels, left backed All India Students Association (AISA) and Congress-affiliated National Students Union of India (NSUI).
While three of the organisers were former ABVP office-bearers, two of them are still with the party but differ with their stand on Manusmriti.
The students said that they chose International Women's Day to send out the message that anything derogatory towards women will not be tolerated.
"We are burning the pages of the text that contained 40 derogatory references against women," a protesting girl said.
"Today is women's day and in order to oppose the derogatory remarks made against women in the Manusmriti, we have burnt certain portions of the text," said Jatin Goraiya, vice-president of the ABVP unit in JNU.
The university authorities maintained that they had denied permission for the event and the security was briefed about the same.