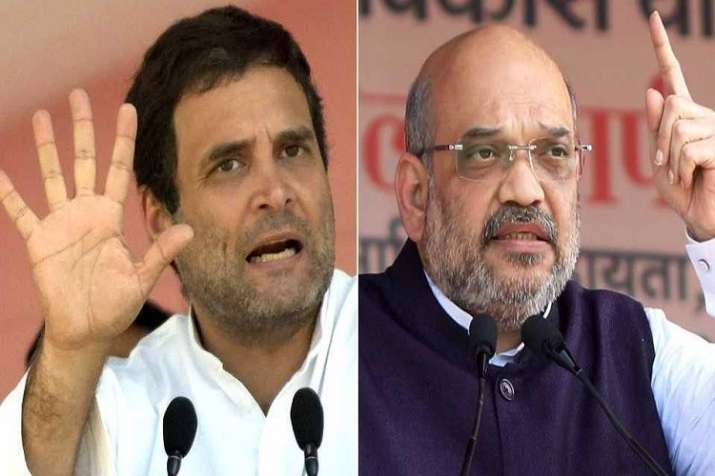 After Prime Minister Narendra Modi sounded the election bugle in Uttar Pradesh last week, the BJP and Congress presidents will be in the state to feel the pulse of the people and party workers for the crucial 2019 Lok Sabha polls.
While Congress president Rahul Gandhi will be on a two-day visit to his parliamentary constituency Amethi from July 4, during which he is likely to meet party workers and attend several programmes, BJP president Amit Shah will be in Varanasi, Mirzapur and Agra on the same dates.
Gandhi will visit the family of a Muslim farmer who died in May at a government procurement centre while waiting for four days in scorching heat to sell his produce.
"The death of farmers showed apathetic attitude of state government. He died waiting for days to sell his produce. Rahulji will certainly visit his house and meet his family members," Congress MLC Deepak Singh said, adding that no BJP leader has visited the farmer's home.
According to BJP leaders, Shah will try to feel the pulse of the people in the state in a meeting with Lok Sabha in-charges of Kashi, Gorakhpur and Awadh regions on July 4.
Shah will also address a social media workers' meet organised by the party's IT cell and give "winning tips" to the workers, a senior BJP leader said.
"Anyone active on social media can attend the meeting. For that, prior registration will continue till today. The party chief will be interacting with the participants," the head of BJP's IT cell, Sanjay Rai, said.
The meet assumes significance as the BJP would be using social media platforms to "aggressively" counter what he said was the opposition's propaganda.
 On July 5, Shah will attend an intellectuals' meet and take feedback from Lok Sabha in-charges in Agra.
The BJP swept Uttar Pradesh in 2014, winning 73 of its 80 Lok Sabha seats.
Shah will also be reviewing the performance of Chief Minister Yogi Adityanath's government amid talk of a reshuffle.
The party witnessed humiliating defeats in Adityanath's Gorakhpur Lok Sabha constituency and Deputy CM Keshav Prasad Maurya's Kaushambi constituency as well as Kairana parliamentary and Noorpur Assembly Bypolls. 
(With PTI inputs)