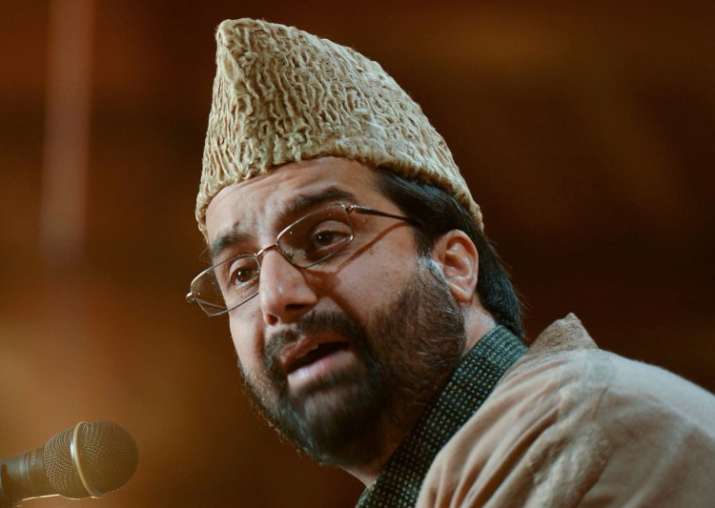 The Kashmir Valley has been reeling immense tension since the day DSP Mohammad Ayub Pandith was lynched by a mob outside the Jama Masjid in downtown Srinagar. Separatist Hurriyat Conference leader Mirwaiz Umar Farooq was present inside the mosque when his supporters stripped the officer and stoned to death.
Farooq, who has been provided security cover by the government, speaks pro-Pakistani language. It is said that Farooq was delivering a sermon inside the mosque when a huge mob gathered outside here raising pro-Pak slogans. The officer, whose body was dragged for 300 metres, was ironically guarding Farooq. 
Farooq has an important religious as well as political role in the Valley. He is seen as the spiritual leader of Kashmir's Muslims. He became the 14th Mirwaiz in 1990 when militancy was on the rise in the Valley. Farooq, an alumnus of Burn Hall School in Srinagar, who wanted to become a software engineer, holds a postgraduate degree in Islamic Studies called 'Moulvi Fazil', and a PhD. in same from Kashmir University.
His love for Pakistan is known to the everyone. This was evident when he congratulated the Pakistan's national cricket team for registering a win over India in the final match of the ICC Champions Trophy earlier this month in London. 
BJP MLA from Nowshera Ravinder Raina, who branded him as a traitor, said that Farooq receives money from Pakistan for running his 'violent' businesses in Kashmir. He said that the government will definitely take strict action against him and others, adding that 'death is the only punishment that should be awarded to such people'.
"He is a traitor…. killed humanity in Kashmir. Not only him, Geelani, Malik… all are getting funds from Pakistan and turning Kashmir into a graveyard. The government and people will never forgive them. Death is the only punishment for them," he said. 
According to Farooq, use of security forces against the Kashmiri people is the reason to such brutal reactions. He says that authorities have choked political space for peaceful activities in the state, leaving no other option open for them to raise their voice.
Farooq's love for Pakistan, who today has become a threat to people in Valley, was also revealed by WikiLeaks. The leaked information say that Farooq has acquired property in Dubai and Kashmir as a result of payoffs to him by Pakistani intelligence agencies.
Major General (Retd) GD Bakshi, defence analyst, said that people like Farooq are responsible for inciting tension in Kashmir. "They lure unemployed and poor youth in wrongful activities. Their pay them for pelting stones at our security forces."
Post-lynching of Ayub, several politicians and people have started questioning the government for proving Z-security cover to Farooq. In recent few days, demand to withdraw the security cover to him and other separatist leaders has gained pace. 
"These separatist leader receive money from Rawalpindi. This has come under the NIA lens. We will not allow them to divide us," BJP national spokesperson Sambit Patra said. 
"They are terrorists. And they are spreading violence. Why provide security to them? To save them from people or from the Government of India?" firebrand BJP leader Subramanian said. 
Meanwhile, pressure is mounting on the government to give free hand to police and withdraw security of Farooq following the lynching incident.