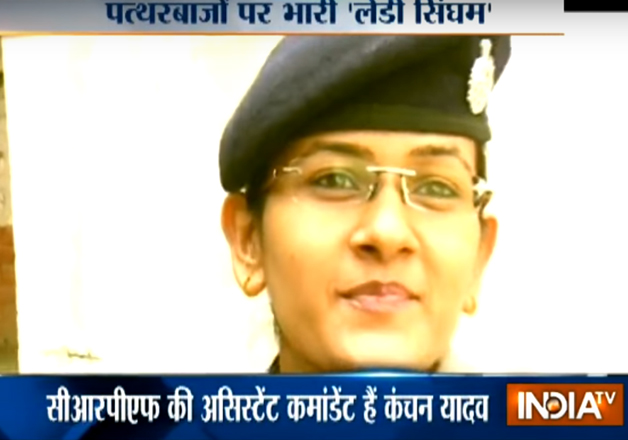 India's security forces in Kashmir struggled hard to combat the stone pelters last year during the unrest in the Valley following Hizbul terrorist Burhan Wani's killing. 
But a bespectacled female police officer, wearing a helmet and a flak jacket, stood firm at the head of a CRPF battalion picketing an advancing mob of stone pelters. 
The name is Kanchan Yadav, the assistant commandant of the CRPF's 44 battalion in Srinagar. 
Famous as 'Lady Singham' in her battalion, the 28-year-old Kanchan was the lone woman with the CRPF to be assigned law-and-order responsibilities in the violence-hit Kashmir Valley. 
Kashmir has been Yadav's first posting and, since June 2015, she has been based at Mujhaid Manzil in the Pathar Masjid area of downtown Srinagar. 
"Stone-pelting was not common until 2016. But last year, it was quite difficult to deal with the stone-throwers. When we joined Kashmir, it took us some time to understand how to deal with the situation, but our seniors trained us for such situations," says office Kanchan, who hails from Haryana. 
"We are being taught at the time of training that there is no gender difference when it comes to joining force. We all are there to serve the nation," she added. 
Kanchan's mother is also an assistant commandant with the CRPF, and is presently deployed on election duty in the northeastern state of Manipur. Her maternal grandfather had retired from the paramilitary force, whereas her father is a retired Indian Air Force officer.  
Kanchan's husband is a is a Navy officer posted in Kochi.