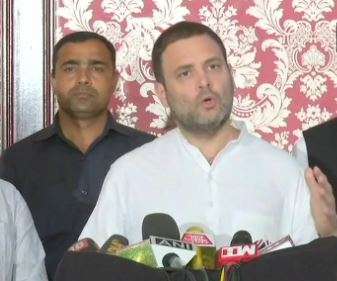 Congress president Rahul Gandhi, on Wednesday, came out all guns blazing against Prime Minister Narendra Modi. "PM Modi and the BJP are attacking the Constitution and institutions of the nation," Gandhi said. Support Mahagathbandhan he added, "Grand alliance of all opposition parties is the sentiment of people and not just politicians. 
He also alleged that people are troubled due to demonetisation. Traders and small businessmen were affected, Gandhi said.
Congress president also alleged that present government is working for the rich of the country.
He also questioned that when crude oil prices are declining in the international market then why fuel is on fire in the country? 
General elections are due to be held in April or May 2019 to constitute the seventeenth Lok Sabha. And Congress is planning to give a tough fight to Prime Minister Narendra Modi.