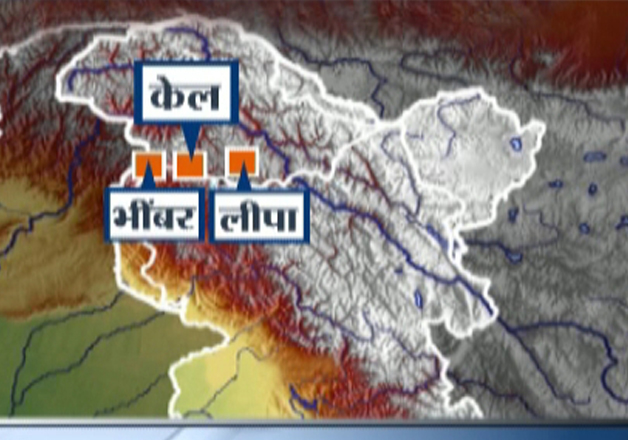 India today said it conducted surgical strikes on terror launchpads and terror camps across three locations last night across the Line of Control (LoC) and inflicted significant casualties and heavy damages on militants. 
"Indian Army conducted surgical strikes last night on terror launch pads across the Line of Control," DGMO Lt Gen Ranveer Singh said, adding that India was ready for any kind of contingency.
Gen Singh said India shared with Pak army details of the surgical strikes which followed "very specific information" that terrorists were positioning themselves in the launch pads along the LoC. 
Live Updates: 
* "One soldier from 37 Rashtriya Rifles with weapons has inadvertently crossed over to the other side of the Line of Control," says army source. 
* Pakistan Prime Minister Nawaz Sharif reviews Pakistan's defence preparedness
* Pakistan summons Indian High Commissioner Gautam Bambawale following "unprovoked cross border firing" by India: Pakistan Foreign Office
* India has got all legal, internationally accepted right to make a response to any attack on her sovereignty and her soil: Iqbal Chowdhury, Advisor to Bangladesh PM Sheikh Hasina
जब तक पाकिस्तान पोषित आतंक के ये सारे केंद्र ध्वस्त ना हो जाए, ये अभियान जारी रहे। देश की ऐसी अपेक्षा है #ModiPunishesPak

— Swami Ramdev (@yogrishiramdev) September 29, 2016
पाकिस्तान में घुस कर आतंकवादियों को ध्वस्त करने के लिए भारत के बहादुर प्रधानमंत्री @narendramodi व हमारी महान सेना को प्रणाम#ModiPunishesPak

— Swami Ramdev (@yogrishiramdev) September 29, 2016
* Sushma Swaraj meets Sonia Gandhi to brief about army's surgical strikes
* Whatever Indian Army did was very sensible, measured & proportionate form of retaliation: Shashi Tharoor
Govt briefed us about the #SurgicalStrike , we congratulated the forces for being successful in the operation: GN Azad,Congress pic.twitter.com/bqdCzaH0hG

— ANI (@ANI) September 29, 2016
Delhi: All party meeting at MHA ends ( In pic: Amit Shah and EAM Sushma Swaraj leave) #SurgicalStrike pic.twitter.com/SGCxECJnKj

— ANI (@ANI) September 29, 2016
* A salute to armed forces and to the leadership of the Prime Minister for securing our borders and defending from Pakistan-sponsored terrorism. A responsible government acts and talks less. And that has been the practise of this government under Modi's leadership: BJP national secretary Sidharth Nath Singh. 
* Proud of our armed forces for their heroic surgical strikes on terror launch pads. Surgical strikes were conducted when Pakistan did not mend ways after repeated diplomatic efforts to check terrorism originating frm their soil: Union Minister Ravi Shankar Prasad.
We congratulate the Indian army for undertaking surgical strikes on terror launch pads. We stand completely behind our Armed Forces: Congress leader Ahmed Patel
* INC wholeheartedly supports the surgical strike on terror pads in PoK by Indian Army. Salute the valour of our armed forces: Congress spokesperson Randeep Surjewala
​
भारत माता की जय। पूरा देश भारतीय सेना के साथ है

— Arvind Kejriwal (@ArvindKejriwal) September 29, 2016
BSF cancels beating retreat ceremony at Wagah border for today
* This is a loud & clear message to Pakistan, that they will pay cost of carrying out terrorism in our nation: Ex DGMO Vinod Bhatia
* Country is safe in hands of PM Modi & Army, that's why people in different parts of world are appreciating steps taken to counter terror. At least now Pakistan will stop terrorism against India: Union Minister Venkaiah Naidu
* Villages in Punjab which are 10km from international border with Pakistan are being evacuated, additional BSF troops move in
Pak was behaving like a terrorist state;befitting reply was needed.These strikes boosted morale of our army: Dr Nirmal Singh, J&K Depy CM pic.twitter.com/xSdEdZZ6Xa

— ANI (@ANI) September 29, 2016
* Indian Army special forces were para-dropped across the Line of Control: ANI
As per the initial reports, 30 to 35 militants were killed in the operation. 
* This is for the first time Army conducted surgical strike in PoK. There was a clear political intent and this will send a strong message to Pakistan: Former Indian Army chief General (rtd.) Bikram Singh
* Our two soldiers died and nine got injured: Pak Defence Minister Khawaja Asif 
* Surgical strikes on Pakistani terror camps belonged to multiple terror groups, NO Indian casualties: Sources
If our army has taken a decision, the whole nation will support them: UP Congress President Raj Babbar pic.twitter.com/LKya5oZmKw

— ANI (@ANI) September 29, 2016
Pakistan's Inter Services Public Relations says "no surgical strike by India, instead there had been cross border fire initiated by India"

— ANI (@ANI) September 29, 2016
Pakistan rejects India's claim of #surgical strikes across
Government calls an all party meeting at 4pm today after Indian Army conducts surgical strikes in Pak territory.
* This is a lesson for all terrorists; we have the right of self-defence: BJP's Shahnawaz Hussain 
Pakistan's Inter Services Public Relations says Indian offensive carried out in Bhimber, Hotspring, Kel & Lipa sectors, on Pak's side of LoC

— ANI (@ANI) September 29, 2016
* Sensex crashes 555 points and Nifty slides about 170 pts in noon trade after reports of surgical strikes against Pakistan.
* We condemn this attack, our desire for peace should not be interpreted as our weakness. We are ready for the safety and defence of our country: Pak PM Nawaz Sharif 
* PM Modi informed President Pranab Mukherjee, Vice President Hamid Ansari and former Prime Minister Mahmohan Singh on surgical strikes.
#WATCH: DGMO Lt Gen Ranbir Singh says "Indian Army conducted surgical strikes on terror launch pads on the LoC last night" pic.twitter.com/UXjVEvyLwF

— ANI (@ANI) September 29, 2016