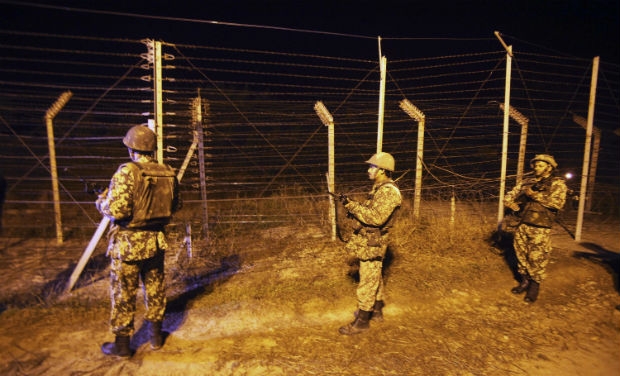 An Indian soldier inadvertently crossed over the Line of Control (LoC) to Pakistan on Thursday, an army source said few hours after India carried out a "surgical strike" against terror camps and terror launchpads in Pakistan occupied Kashmir (PoK).
"One soldier from 37 Rashtriya Rifles with weapons has inadvertently crossed over to the other side of the Line of Control," the source said. 
"Such inadvertent crossing by soldiers and civilians are not unusual on either side… They are returned through existing mechanisms," he added.
Pakistan was informed about the incident by the director general of military operations (DGMO) Lt Gen Ranbir Singh.
Indian Army today said that it carried out "surgical strikes" on terror launchpads and terror camps across three locations in Pakistan occupied Kashmir (PoK).  
The strikes inflicted significant casualties and heavy damages on militants, the army said. 
"Indian Army conducted surgical strikes last night on terror launch pads across the Line of Control," DGMO Lt Gen Ranveer Singh said. 
Pakistan termed the surgical strikes as "unprovoked cross border firing" by India. 
A Pakistan army statement said "an exchange of fire between Pakistani and Indian LoC troops began at 2:30am and continued till 8:00am in the Bhimber, Hotspring, Kel and Lipa sectors" and added that "Pakistani troops befittingly responded to Indian unprovoked firing on the LoC."
Later in the day, Pakistan media reported that eight Indian soldiers were killed and one captured by Pakistani military in retaliatory fire, a claim denied by India. 
Indian Army sources said, "As regard (to the) report of killing of eight Indian Army personnel reported in sections of Pakistan media, the report is completely false and baseless." 
Pakistan daily Dawn News reported that Pakistani military has claimed that it has killed eight Indian soldiers and captured one while retaliating to India's firing at the first line of defence at the Line of Control (LoC) at Tatta Pani. 
The paper identified the captured soldier as 22-year-old Chandu Babulal Chohan son of Bashan Chohan from Maharashtra. 
It said he has been shifted to an undisclosed location.