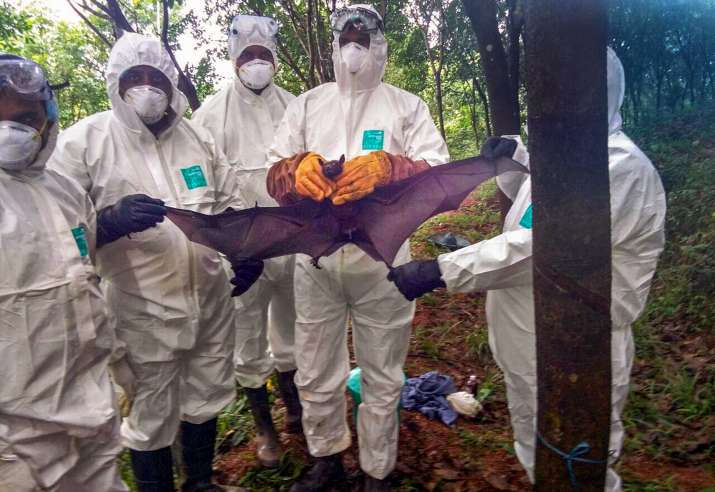 The death toll from Nipah virus has touched 16 in Kerala with two more people succumbing to the deadly disease in the last two days. While the Kerala government has been claiming that necessary steps are being taken to contain the threat, state Health Minister KK Shailaja hinted towards a possible second outbreak. Shailaja said that while there was no need to panic, precautions must be taken.
Meanwhile, several staffers, including nurses and four doctors, of a hospital in Balussery near Kozhikode have been asked to go on leave from as a precautionary measure after the death of two people being treated for Nipah virus.
Two people, who succumbed to the virus in the past two days, had undergone treatment at the taluk hospital before being shifted to the Kozhikode Medical College Hospital.
 
A senior health official said the health staff, including four doctors and nurses, of Balussery hospital who were in contact with the patients were asked to go on leave for a week as a precautionary measure. 
Also Read: What is Nipah Virus? All about causes, symptoms and treatment
The official also said there have been enquiries from various institutions, including the local employment exchange, seeking permission to shut office for the time-being. 
 Kozhikode District Collector U V Jose would file a report to the Kerala High Court on the situation in the district in the wake of Nipah virus, a source said. 
Nipah scare continues to threaten  
Following the death of a superintendent of Kozhikode district court complex due to Nipah, the district bar association asked the collector to stop the functioning of the district court for the time-being. 
As a precautionary measure due to the Nipah virus, schools in Kozhikode and Malappuram districts did not re-open on June 1 after summer vacation and would commence their new academic session from June 5. 
Meanwhile, as part of 'Nipah alert', state health authorities asked those who visited Kozhikode Medical College casualty, CT scan room and waiting room on May 14 to contact the state Nipah cell immediately.
 
So far, a total of 196 samples have been tested for Nipah, of which 18 have tested positive. Sixteen people have died due to the virus.
Watch: Mystery behind the deadly and rare Nipah virus
(With PTI inputs)