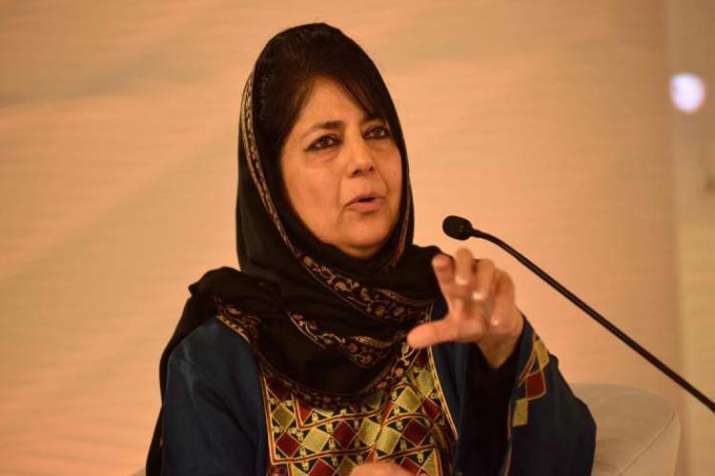 The Bharatiya Janata Party (BJP) on Tuesday asked its ministers in the Jammu and Kashmir government to resign in order to bring in new faces in Chief Minister Mehbooba Mufti's Cabinet.
The BJP leaders said the party wants to bring in new faces in the cabinet and work for the people of the state. 
The state can have a maximum of 25 ministers, including the chief minister, out of which 14 portfolios are with the PDP and the remaining with the BJP. 
According to top state government sources, the reshuffle is likely to take place on April 20. 
The decision follows hectic parleys between senior BJP leader Avinash Khanna and party legislators, the sources said. 
This comes days after resignation of two BJP ministers, who had participated in a rally in support of the people arrested in connection with the rape-and-murder of an eight-year-old girl in Kathua district. 
Both Forest Minister Lal Singh and Industries Minister Chander Prakash Ganga had participated in a rally on March 1 after the crime branch of Jammu and Kashmir Police had arrested the nephew of a caretaker of a 'Devisthan' (temple) in connection with the kidnapping and rape of the girl, belonging to a nomadic tribe. 
During investigation, the police arrested the caretaker and alleged he was the mastermind behind the kidnapping, rape and killing of the girl from a nomadic tribe. The police claimed the motive behind the crime was to terrify the nomadic community and drive it out of the village. 
The girl was kidnapped on January 10 and her body was found on January 17. During investigation, the crime branch alleged she was drugged and repeatedly raped before being killed by crushing her head with stones. 
Both the ministers had maintained that they had been sent by the party to Kathua to understand the ground situation. The two ministers were present in the rally in support of the rape-accused where the tricolour was also waved. 
WATCH FULL VIDEO: