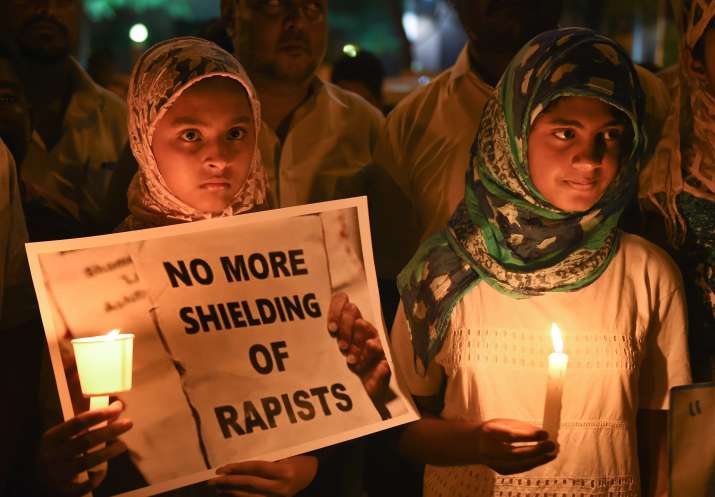 The lawyer's body, charged with blocking justice to the eight-year-old Kathua rape victim, has withdrawn its offer to contest the case of the eight accused for free. The Bar Association Kathua (BAK)'s decision comes a day after the Supreme Court took a serious note of lawyers obstructing the judicial process and initiated a case on its own accord saying such impeding of the process of law "affects the delivery of justice". 
The top court said that lawyers' bodies have a solemn duty to not obstruct advocates representing the accused or the victims' family in courts.
"We have withdrawn our offer to contest the case free of cost. Accused are free to engage any individual advocate and exercise their respective rights of defence in the court. It is for any individual advocate to accept the brief and the bar association will not come in the way of defence nor will hamper the prosecution," BAK president Kirty Bhushan Mahajan said. 
Also read | Kathua rape-murder case: Two BJP ministers, who rallied in support of accused, resign
Mahajan said after going through the charge sheet presented by the Crime Branch, it is revealed that the allegations against the accused persons are very grave and this case is to be dealt with in a professional way. 
Claiming that the association members never obstructed the Crime Branch from filing the charge sheet against the accused, he announced an end to the agitation in support of the demand for a CBI probe but said the same probe would be made in legal manner before the court as per applicable law. 
"The CBI investigation was demanded to find out and bring on surface as to who actually had started playing communal card during the entire period of time. We want justice to the poor departed soul whereas it is evident that the fringe elements are making it communal under an agenda," he said. 
Also read | 'No culprit will be spared': PM Modi breaks silence on Unnao, Kathua cases amid nationwide outrage
However, the bar will explore the legal option for CBI probe so that the real culprits (may be they are the same as mentioned in charge sheet of crime branch) are punished with the capital punishment and nothing less than that. 
Distancing the association with the Hindu Ekta Manch, he said the bar has no "direct or indirect association" with the self-styled Manch.
(With inputs from PTI)