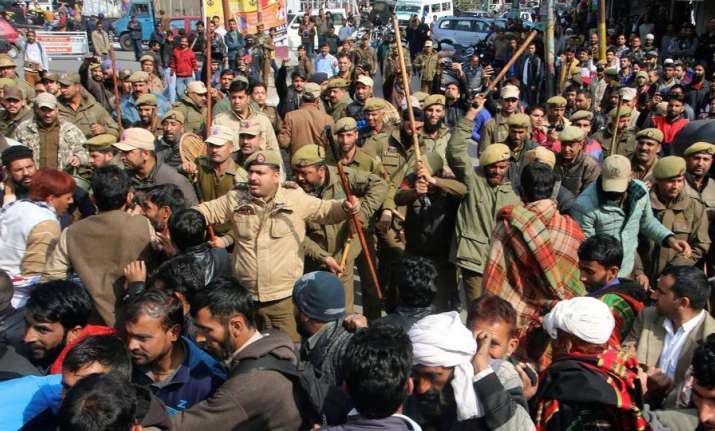 Two BJP minister, who had attended a rally in support of the Kathua rape accused, on Friday resigned from the Mehbooba Mufti government, an official statement said.
According to reports, both the ministers submitted their resignations to the state party chief. 
Industries Minister Chandra Prakash Ganga and Forest Minister Lal Singh had addressed a rally in support of the accused by a group called the Hindu Ekta Manch in March.
The development comes even as Prime Minister Narendra Modi on Friday expressed anguish over the incident, assuring the country that the culprits guilty of the rape and murder would not be spared at any cost. 
"I want to assure the country that no culprit will be spared, complete justice will be done. Our daughters will definitely get justice," said PM Modi amid a nationwide outrage over the case.
Earlier today, Union minister Maneka Gandhi declared that her ministry that her ministry intends to amend the POCSO Act making provision for death penalty in child rape cases.
"I have been deeply, deeply disturbed by the rape case in Kathua and all the recent rape cases that have happened on children. 
"I and the (Women and Child Development) Ministry intend to bring an amendment to the POCSO (Protection of Children from Sexual Offences) Act asking for the death penalty for rape on children below 12 years," the WCD Minister said in a video message.
In a separate development, BJP spokesperson Meenakshi Lekhi defended the two party's ministers, who had joined a rally against the police probe in the Kathua rape and murder case, claiming that they were "misled" into attending the protest.
The minor girl in the Kathua case, who belonged to the minority nomadic community, had disappeared from near her home in the forests next to a village in Kathua, 90 km from here, on January 10. 
A week later, her body was found in the same area, and medical examination pointed towards sexual assault. 
During initial investigations, the police arrested a juvenile. Later, the case was transferred to the Jammu and Kashmir Police's Crime Branch. 
Two Special Police Officers (SPOs) and later, another five people, including a former revenue official and the alleged conspirator, who surrendered before the Special Investigation Team, were arrested. 
The Crime Branch, which probed the rape and killing of the girl, had filed a main charge sheet against seven people and a separate charge sheet against the juvenile in a court in Kathua district earlier this week. 
Jammu has been on tenterhooks since the brutal incident. The bar associations have been opposing the action against the accused, alleging that the minority Dogras were being targeted.
WATCH VIDEO: