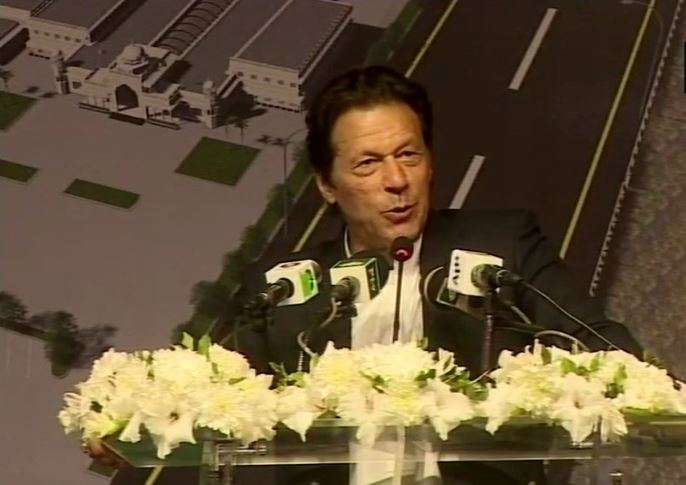 Prime Minister Imran Khan laid the foundation stone for the much-awaited corridor linking Gurdwara Darbar Sahib in Pakistan's Kartarpur on Wednesday, in the presence of several Indian leaders, including Punjab Minister Navjot Singh Sidhu, and Union ministers Hardeep Puri and Harsimrat Kaur Badal. 
Kartarpur Sahib, the final resting place of Sikh faith's founder Guru Nanak Dev, in Pakistan is located across the river Ravi, about four kilometres from the Dera Baba Nanak shrine, in India's Gurdaspur district. The city Kartarpur Sahib was established by the Sikh Guru in 1522. The first Gurdwara, Gurdwara Kartarpur Sahib, was built in Kartarpur, where Guru Nanak Dev is said to have died.
The Kartarpur Corridor, which will facilitate the visa-free travel of Indian Sikh pilgrims to Gurdwara Darbar Sahib in Kartarpur, is expected to be completed within six months. The development comes ahead of Guru Nanak's 550th birth anniversary next year.
Latest Updates from Kartarpur Corridor Ground Breaking Ceremony: 
04:25 pm: I heard there was a lot of criticism of Sidhu when he went back after my oath-taking ceremony. I don't know why was he criticised. He was just talking about peace and brotherhood. He can come and contest election here in Pakistan's Punjab, he'll win: Imran Khan
04:19 pm: Two nations who have nuclear weapons can't enter in fight because no one will win: Imran Khan
04:17 pm: The only issue between us is Kashmir, all it needs is just two capable leaderships to resolve this issue. Just imagine the potential we have if our relationships get strong: Imran Khan
04:14 pm: We want to move forward: Imran Khan
04:12 pm: Both countries have committed mistakes: Imran Khan 
04:10 pm: I do not know that Sidhu is good in poetry too: Imran Khan
03:52 pm: Violence must stop and peace should return to the region: Punjab Minister Navjot Singh Sidhu at Kartarpur Corridor groundbreaking ceremony
03:45 pm: Both the governments should realise that we have to move forward. My father used to tell me that Punjab Mail went till Lahore, I believe that it can go further till Peshawar, till Afghanistan: Navjot Singh Sidhu
03:41 pm: Navjot Sidhu is seen sitting with 26/11 Mumbai attacks mastermind and LeT founder Hafiz Saeed
03:34: Prime Minister Imran Khan lays the foundation stone for the much-awaited corridor linking Gurdwara Darbar Sahib in Pakistan's Kartarpur.
03:11 pm: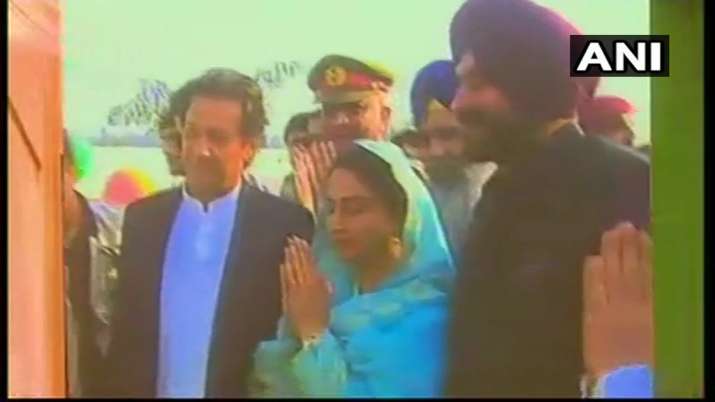 Visuals from the ground-breaking ceremony of #KartarpurCorridor in Pakistan. Ceremony to start shortly. pic.twitter.com/zDIm0wcscm

— ANI (@ANI) November 28, 2018
Union Minister Hardeep Puri, who crossed the Attari-Wagah border along with his colleague Harsimrat Kaur Badal on Wednesday, said that he was privileged  to visit Kartarpur Sahib. "I feel extremely grateful and privileged to be able to make this pilgrimage. This was a long-standing demand of the Sikh community. Express gratitude also to Pak Govt," the minister said before leaving.
Attari-Wagah: Union Ministers Hardeep Puri and Harsimrat Kaur Badal leave for Pakistan to attend #KartarpurCorridor foundation stone laying ceremony pic.twitter.com/ofErJFBPYi

— ANI (@ANI) November 28, 2018
The corridor's work was initiated on the Indian side of the border on Monday when Vice President Venkaiah Naidu and Punjab Chief Minister Amarinder Singh laid the foundation stone of the corridor in Gurdaspur. 
Prime Minister Narendra Modi had on Friday hoped that the Kartarpur Corridor would act as a bridge between the peoples of India and Pakistan that might lead to a better future as he referred to the fall of the Berlin Wall to underline the importance of people-to-people contact.Speaking at a function to mark the birth anniversary of Guru Nanak in New Delhi, Modi said the issues between the governments and the armies would continue and only time will show the way out.
However, Minister of External Affairs Sushma Swaraj today cautioned people against optimism. The minister, who had declined the invitation to attend the ground breaking ceremony in Pakistan due to prior commitments, today warned Pakistan that success in Kartarpur Sahib corridor matter does not open gates for peace talks. "For many years the Indian Government has been asking for this (Kartarpur) corridor, only now Pakistan responded positively. It doesn't't mean the bilateral dialogue will start because of this, terror and talks can't go together," she said. 
Read full story | Kartarpur corridor not connected with Indo-Pak peace dialogue: Sushma Swaraj
On the other hand, former Jammu and Kashmir Chief Minister and former BJP ally Mehbooba Mufti expressed hope that Kartarpur Corridor will bridge gap between the two nations. "Kartarpur is a great example of how religion can bring people together instead of dividing them. It is a path envisioned by PDP founder Mufti Sb to end the turmoil in Kashmir. #SelfRule After Kartarpur, Delhi and Pakistan must facilitate Sharda Peeth pilgrimage for kashmiris (sic)," the PDP chief tweeted on Wednesday. 
Thousands of Sikh devotees from India visit Pakistan every year to celebrate the birth anniversary of Guru Nanak.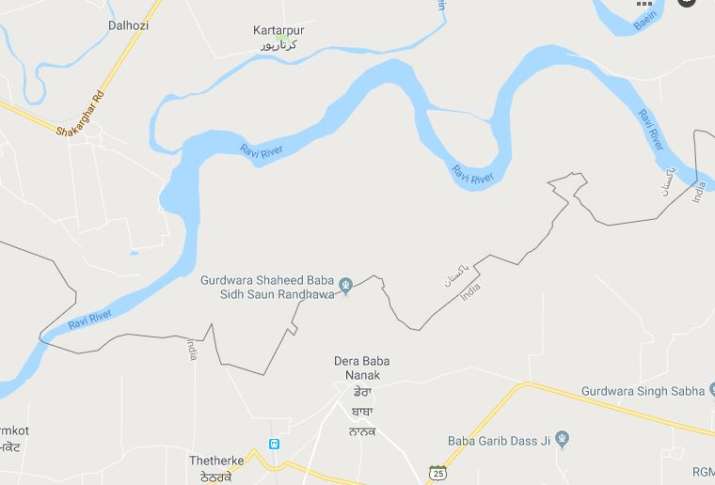 The issue of Kartarpur Sahib came into focus after Punjab Minister Navjot Singh Sidhu visited Pakistan in August to attend the oath-taking ceremony of his cricketer-turned-politician friend Imran Khan as prime minister of that country.
After his return, Sidhu said that Pakistan Army chief Qamar Javed Bajwa had told him that Pakistan may open a corridor to Kartarpur Sahib.
Sidhu has already arrived in Lahore with a group of Indian journalists to attend the ground breaking ceremony on Wednesday.
The India-Pakistan ties nose-dived in recent years with no bilateral talks taking place. The ties between the two countries had strained after the terror attacks by Pakistan-based groups in 2016.
Sidhu has termed the Kartarpur Corridor as a "corridor of infinite possibilities" and said such initiatives would promote peace and erase "enmity" between India and Pakistan. 
"The seed Imran Khan had sown three months ago has become a plant. It is a happy moment for the Sikh community that the corridor to reach Kartarpur to get Baba Guru Nanak's blessing without any hassle," he told the media. 
"Karturpur corridor will prove to be a path of peace," Sidhu added.
Pakistan had invited External Affairs Minister Sushma Swaraj, who thanked her Pakistani counterpart Shah Mahmood Qureshi for the invite and said she was unable to travel to Kartarpur Sahib due to prior commitments.
(With inputs from PTI)
Watch LIVE