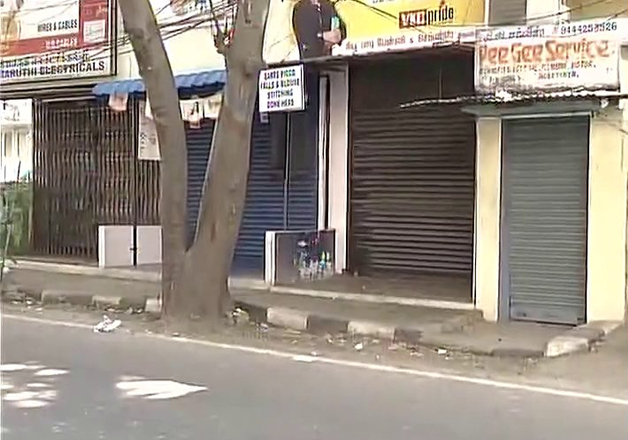 A complete shutdown-like situation has gripped Chennai and other parts of the state following the demise of Tamil Nadu Chief Minister Jayalalithaa.
The immensely popular Chief Minister breathed her last at the Apollo Hospital in Chennai. She was declared dead late last night. 
Since today morning, large crowds were seen thronging Rajaji Hall here to pay their last respects to the departed leader. Amma, as she was more popularly known among masses, will be cremated at 4:30 pm today evening.
Jayalalithaa's demise has brought the entire state almost to a standstill with shops, offices, petrol pumps and supply of goods affected. However, supplies of essential items such as milk, medicines were not obstructed.
Public transport has also been hit across the state. Inter-state buses between Karnataka and Tamil Nadu were also suspended fearing violence. No state transport corporation buses were seen plying on the roads here. The roads wore a deserted look with people remaining indoors.
Chennai: Shops and commercial establishments down shutters after the demise of #JJayalalithaa (Visuals from Anna Nagar) pic.twitter.com/WTJzwZdnhS

— ANI (@ANI) December 6, 2016
Only private vehicles were plying on the roads and that too in small numbers. Shops in the busy commercial area of T Nagar were also closed.
The situation is similar in neighbouring districts of Vellore, Madurai and others where shopkeepers downed shutters and people scurried home.
However, the state government has taken precautionary measures and there has been huge deployment of security forces in and around Chennai. 
The government has deployed hundreds of police personnel across the capital city. At least 5,000 police personnel, including companies of the Armed Reserve and Tamil Nadu Special Police, were called in for reinforcement by the Chennai Police as they drew up an elaborate security scheme to manage crowd and maintain law and order situation.
The state government has already declared three days holiday for educational institutions and seven days state mourning.
Jayalalithaa, the six-time CM of Tamil Nadu and one of India's most charismatic political leaders, died after a bitter 74-day battle for life. She was 68.