Follow us on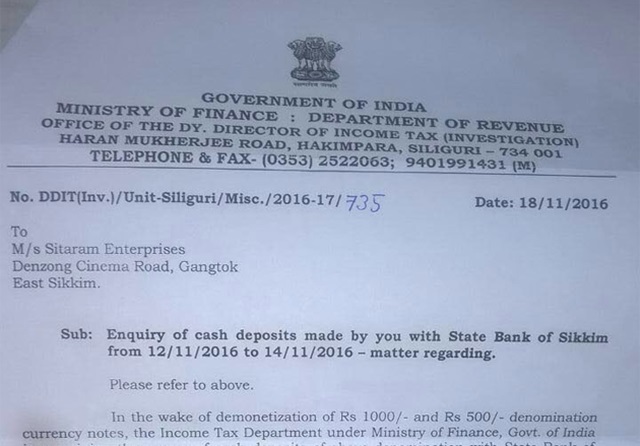 The income tax (I-T) department has started cracking the whip on people depositing large amount of cash following PM Narendra Modi's announcement of removing old Rs 1,000 and Rs 500 currency denominations from legal tender.
According to Economics Times, I-T department of Siliguri issued notices to enquire cash deposits made by people in State Bank of Sikkim from November 12 – 14 
In the notice dated November 18 – signed by Norbu Bhutia, deputy director of Income Tax (Investigation) at Siliguri unit – the concerned party has been asked to appear before the deputy director on (or before) November 25 to explain the source of deposits, along with "supporting documentary evidence", Economics Times report said.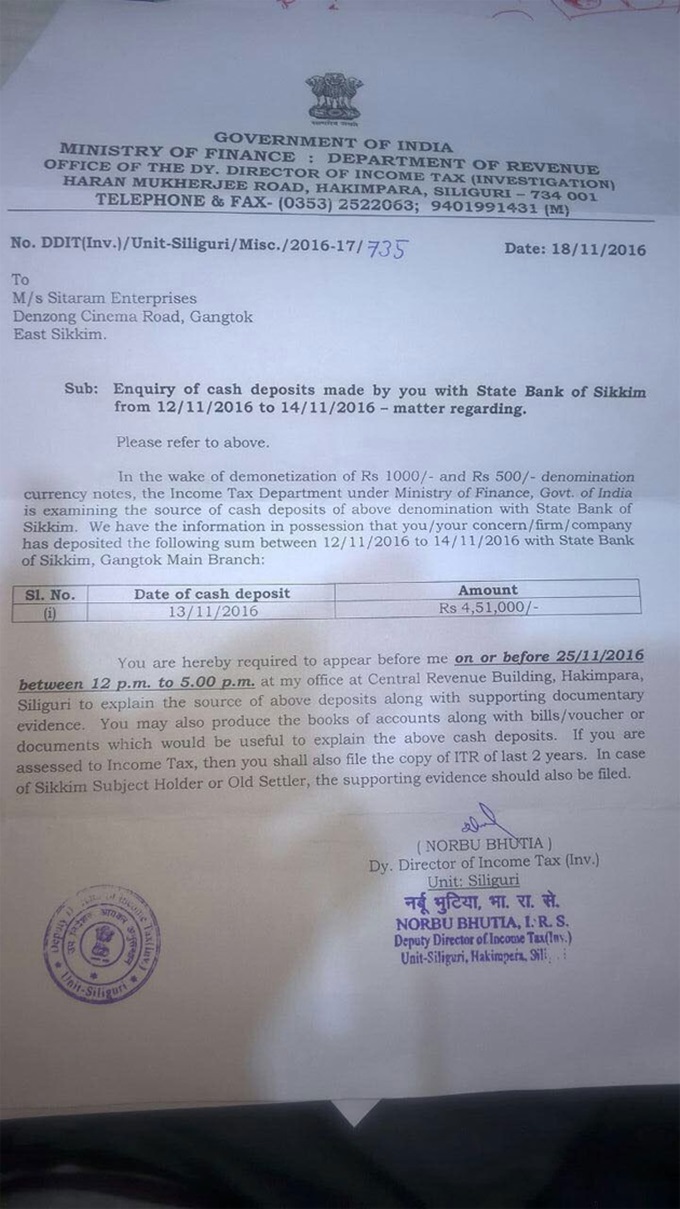 "You may also produce the books of accounts along with bills/ voucher of documents which would be useful to explain the cash deposit," the notice reads. 
One such notice has been sent to a Gangtok-based company for making a cash deposit of Rs 4,51,000 on November 13. 
Earlier, Indian government warned that cash deposits above Rs 2.5 lakh threshold under the 50-day window could attract tax plus a 200 per cent penalty in case of income mismatch. 
"We would be getting reports of all cash deposited during the period of November 10 to December 30, 2016, above a threshold of Rs 2.5 lakh in every account," Revenue Secretary Hashmukh Adhia said 
"The (tax) department would do matching of this with income returns filed by the depositors. And suitable action may follow," he added. 
The Income Tax Department has earlier made it mandatory for Permanent Account Number (PAN) to be quoted for cash deposits aggregating to Rs 2.5 lakh or more in bank accounts after the withdrawal of old 500 and 1000.