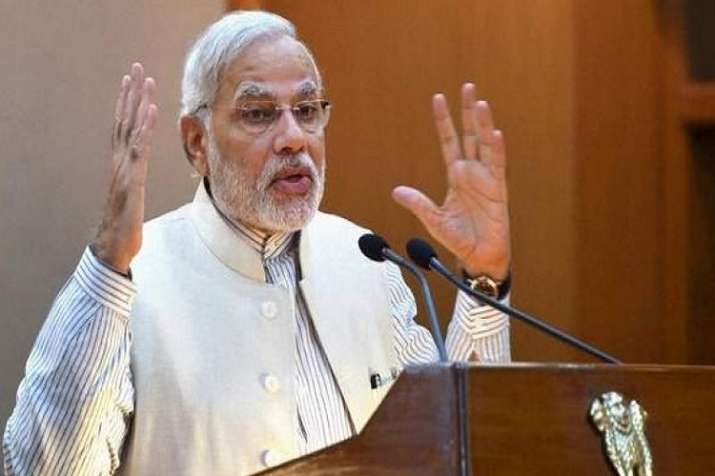 1. Amit Shah
Hailing Prime Minister Narendra Modi for the completion for four years in governance, BJP chief Amit Shah said; "BJP provided the most hardworking Prime Minister and the most popular leader in the world to the country, a PM who works for 15-18 hours a day. We are proud that this Prime Minister is a leader of BJP".
2. Arun Jaitley
"In the last 4 years leadership of PM Narendra Modi ji has transformed India from being a part of the "fragile five" to a "bright spot" on the global economic scene. A regime of policy paralysis has been transformed into one of decisions and actions", tweeted Finance Minister Arun Jaitley.
3. Sarbananda Sonowal
Assam Chief Minister Sarbananda Sonowal said; "it's been a wonderful journey of transforming India, delivering good governance & transparent, corruption free system which has built foundation of a New India".
4. Rahul Gandhi
Releasing the report card of the performance of the Modi-government in the last four years, Congress chief Rahul Gandhi, in a Twitter post, gave the BJP government an 'F' in four parameters- agriculture, foreign policy, job creation and fuel prices. Taking a jibe Modi, the Congress chief called him a 'master communicator' with a 'short attention span'.
ALSO READ: 'Grade F for performance, A+ for self promotion': Rahul Gandhi's report card for PM Modi
5. HD Kumaraswamy
"They (BJP) have made several promises through speeches, they have discussed about big things, but they have not been able to implement is the opinion expressed by many political analysts"
6. Randeep Surjewala
Congress spokesperson Randeep Surjewala slammed the Modi-government, saying that the government has betrayed the people by unfulfilling its promises. "These four years can be defined in four terms - treachery, trickery, revenge and lies. Hence, India is betrayed", he said.
"After spending Rs 4600 crore on insurmountable advertisements, Prime Minister Modi is on a perpetual campaign, but refuses to understand people's pain", he added.
7. Ashok Gehlot
Congress general secretary Ashok Gehlot remarked that the people had trusted Modi, but he had betrayed them. "Farmers, youth, traders, women, everyone now feels betrayed. There is sense of fear and mistrust among people. Fuel prices are sky-rocketing. This is a loot. The situation in the country is such and all sections of society are so unhappy that the people will force every party in the country to come together to defeat Modi and the BJP," he said.
8. Amarinder Singh
 Punjab Chief Minister Amarinder Singh exuded confidence that a united opposition will oust the BJP-led government at the Centre, which he described as a "total failure on all counts". 
"People want change, they want a future, they want a government that delivers," Singh said, adding that the Narendra Modi government would "bear the consequences" of its "ill-conceived" policies in the Lok Sabha elections next year. 
 
"The economy has been destroyed, industry is fleeing, law and order has collapsed, prices of diesel, petrol and other essentials were out of control. Nobody wants such an India", he said. 
9. Mayawati
BSP supremo Mayawati slammed the Narendra Modi government for its 'historic failure' on issues which concern the common man.
The four years of Narendra Modi government prove that it has historically failed on the issues of inflation, poverty, unemployment, welfare work and other issues which affect the life of the people in the country," Mayawati said. 
She alleged that there was anarchy in all walks of life, which proved that the BJP's rule meant "jungle raj". 
"It seems that they have given permission to their people to level all kind of unfounded allegations and indulge in illegal acts," she said. 
10. Akhilesh Yadav
Samajwadi Party chief Akhilesh Yadav hit out at the Modi government, alleging that the poor, Dalits and women suffered during the last four years.
Taking to Twitter, the former Uttar Pradesh chief minister raised the issue of bank frauds and alleged that the corrupt were allowed to flee the country. He said farmers, businessmen and unemployed masses were reeling from the decisions of the Modi government.
ALSO READ: PM Modi in Cuttack: 'My govt moving on correct path, fight against corruption has sent shivers down the spines of opponents'
11. Kapil Sibal
Senior Congress leader Kapil Sibal said; "people of the country want the next prime minister to be not only 'kaamdar' (one who works) but also 'jimmedar' (responsible) and 'imandar' (honest) who is not a 'jumlawar' (one who makes hollow promises)".
12. Sitaram Yechury
"These four years have seen an unprecedented assault on India as a country and the livelihood of our people. There has been a four-pronged attack that continued to intensify by the day during these four years," CPI-M leader Sitaram Yechury said.
13. D Raja
CPI leader D Raja alleged that the BJP-RSS combine had unleashed "fascism, fear and intimidation".
"There is no other achievement. It is full of failures. All we got is rhetoric in these years...All this  rhetoric and there is nothing to celebrate and term as achievements," he said, adding that Modi had "not even respected his own promises".