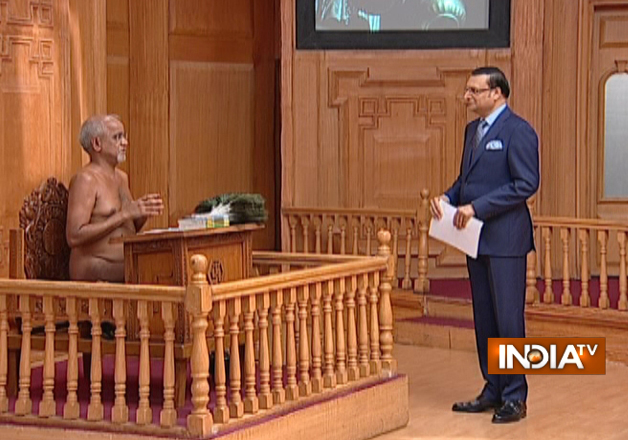 Controversial Jain monk Muni Tarun Sagar Ji Maharaj believes "every third Indian national is corrupt, and only 10 per cent Indians seem to be honest". The remaining 50 to 60 per cent Indians, he says, are "on the verge" of becoming corrupt.
The Jain Muni was replying to queries from Rajat Sharma in the TV show Aap Ki Adalat, to be telecast by India TV on Saturday (March 18). 
He was asked why he addressed legislators in the Haryana and Madhya Pradesh assemblies, when he had been on record on having said that there are "thieves and robbers" in assemblies and Parliament. 
"They need to be addressed. Temples are there for sinners, not for saints. Sinners should first visit temples to pray to God.  As far as my "chor, lutera" (thieves, looters) remark is concerned, I feel that while those who commit petty thefts live inside jails, those committing big thefts are sitting in Lok Sabha and vidhan sabhas.
"Every third Indian national is corrupt, that is, 30 per cent people are corrupt. 50 to 60 per cent people are on the verge of becoming corrupt. Only 10 per cent people are such, about whom you can say they are honest", said the Jain monk.
Muni Tarun Sagar said, he was also invited by Delhi assembly, but the invitation was later withdrawn. "I don't know why it was withdrawn. But whoever invites me, I will surely go. If the Lok Sabha invites me to address, I will go."
Asked whether he intended to join politics, the Jain monk flatly refused, saying he had "no interest in politics." "I am a Digambar Muni, which is an exalted status. We do comment on political issues, because saints are 'gurus' of society. To speak about the ills in society is not a crime."
"What will I do in politics? Suppose, I become the Prime Minister. Presently I am a person whom the PM reveres. One who accepts a throne given by the people becomes Rashtrapati (President), but the person who refuses to accept the throne becomes Rashtrapita (Father of the Nation)."
The Jain Muni strongly hit out at the 'triple talaq' provision in Islamic shariat, saying it amounted to 'atrocity' (atyachar) against women.
"I believe it (triple talaq) is atyachar, zulm (atrocity) on women. The other day a man gave 'triple talaq' to his wife on WhatsApp. This is unacceptable. What sort of tradition (parampara) is this?"
Asked why he was not opposing the "santhara" (slow euthanasia) tradition in Jain religion, Muni Tarun Sagar replied: "One should understand the difference between Sati and Santhara tradition. In Sati tradition, there is attachment, while in Santhara, there is non-attachment. In Sati tradition, the woman believes she would reunite with her husband in the next life, but in Santhara tradition, there is non-attachment (viraag) meaning a feeling of non-attachment towards life and salvation from the bonds of life and death.
"The Santhara tradition is not limited to a few hours, the process extends to 12 years. If one is young and wants Santhara, our religion does not permit this. But when somebody reaches a certain stage in life, when he or she finds death is near, he can opt. It was Lord Mahavira who told us if you want to celebrate life, read the Gita, and if you want to celebrate death, come to me.  Santhara is, thus, the art of celebrating death."
The Jain Muni praised Prime Minister Narendra Modi for his demonetization move. 
Asked why Congress leader Rahul Gandhi opposed demonetization, Muni Tarun Sagar replied: "Whatever he (Rahul) is saying is his party line, he is not speaking for himself nor is he speaking his mind. He is speaking in the interest of his party. ..You cannot imagine the amount of black money in the country. There are nearly 10 lakh astrologers in India, but none could predict that Rs 500 and Rs 1000 would cease to be legal tender. The saints of this great country always considered currency as coloured pieces of paper, but none understood that. On Nov 8 at 8 pm, Modiji in one stroke made them understand that these were only pieces of paper."
The Jain Muni also hit out at those students leaders of Jawaharlal Nehru University, who he said, raised "anti-national slogans". "Such people should no more be tolerated. Some people are supporting them. I think this is not a good sign for the country. It should be opposed in the strongest terms. Such people should be punished."
On his controversial remark in Haryana assembly that "it was the religious duty of every woman to follow the discipline of her husband", the Jain Muni replied: "I was speaking in the context of religion and politics, wherein I said religion is a husband and politics is a wife. I was speaking about their relationship. I do not know in what manner the media portrayed it. It was not my intention to potray women in a poor light."
However, on the issue of gender inequality, Muni Tarun Sagar said: "I am not saying this. It is nature which says this. I do not consider women's power (naari shakti) to be less. A woman is important in her own place, but one has to obey the law of nature."
When Rajat Sharma asked if that was so, why does not Jain religion allow women to become Digambar Muni, in which no cloth is worn, Muni Tarun Sagar replied: "Look, this is how it has been ordained (Dekhiye, ye vyavastha hai). In Jain shastras, it has been said, that women, in whichever posts they are, should be attired in clothes. There is no permission (aagya) for women being in the nude. This is not only prevalent  in Jain religion, but in all religions. Not even among Naga sadhus, who remain naked."
On his remark that jean-attired mothers cannot provide 'aanchal' to their kids, Muni Tarun Sagar said: "For a newborn child, her mother's aanchal is the safest place, better than heaven, but newborns nowadays do not get the joy of the same 'aanchal'. How can a mother wearing jeans provide aanchal? Wearing jeans may be her preference, her decision, I will not interfere nor will force her not to wear. Let the women decide what they want to wear."
Jain Muni Tarun Sagar Ji Maharaj in Rajat Sharma's show Aap Ki Adalat will be telecast on Saturday March 18 at 10 pm on India TV. It will also be telecast on Sunday March 19 at 10 am and 10 pm.