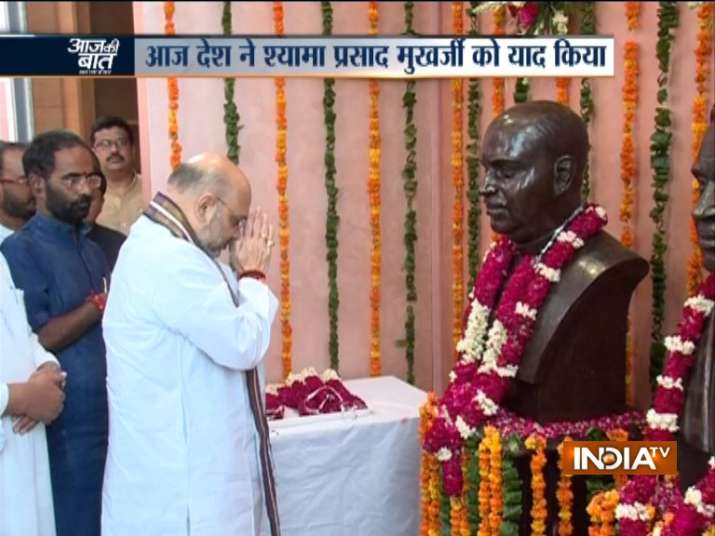 On the birth anniversary of Bharatiya Jana Sangh founder Dr Syama Prasad Mookerjee, BJP president Amit Shah on Friday reiterated that the entire Kashmir belonged to India.
Remembering Dr Mookerji, PM Modi said that he fought for the independence as well as integration of India.
On his Jayanti, I bow to Dr. Syama Prasad Mookerjee .

Dr. Mookerjee is remembered as a fine educationist, a wonderful administrator and a stalwart who fought for India's freedom as well as unity. pic.twitter.com/vBtYKbN9S7

— Narendra Modi (@narendramodi) July 6, 2018
In the BJP office, when Amit Shah started paying floral tributes to Dr Mookerjee, the party workers started shouting the slogan " Jahan huye balidan Mokkerjee, who Kashmir hamara hai, jo Kashmir hamara hai, wo sara ka sara hai".
Amit Shah also repeated the same slogan.
Paying tribute to Dr Mookerjee, Amit Sha tweeted that it's because of Dr Mookerjee's struggle and sacrifice that we are able to visit Jammu and Kashmit without any permit.
डॉ. श्यामा प्रसाद मुखर्जी जी ने अपने विचारों और सिद्धांतों से देश की राजनीति में उच्च आदर्श स्थापित किये। उनका सम्पूर्ण जीवन देश की एकता और देशवासियों के कल्याण के लिए समर्पित रहा। आज अगर हम बिना परमिट के जम्मू-कश्मीर जा पाते हैं तो इसके पीछे डॉ.मुखर्जी जी का संघर्ष और बलिदान है। pic.twitter.com/CopGsG8KWy

— Amit Shah (@AmitShah) July 6, 2018
Dr Mookerjee had sacrificed his life while opposing the permit system that was required for visiting Kashmir in the past.
Watch Video: Entire Kashmir is ours, says  BJP chief Amit Shah