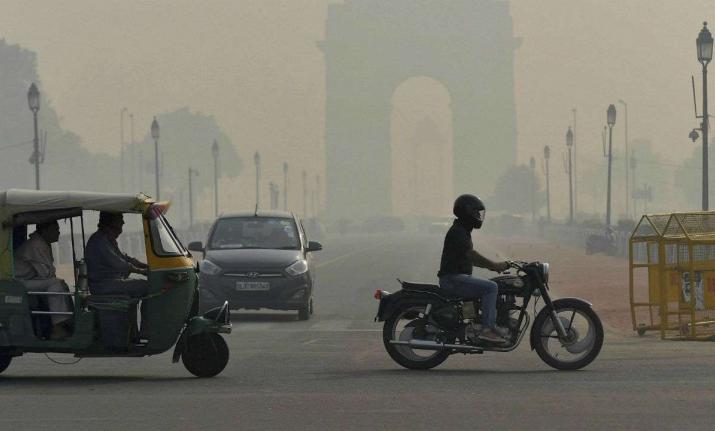 The national capital, which has been battling dangerous levels of pollution, recorded the "worst" air quality of this season on Sunday, adding to the woes of Delhiites. Haze engulfed Delhi on Sunday with the region recording 381 as the overall Air Quality Index in the morning, which falls in the very poor quality. According to the data of the Central Pollution Control Board, the air quality improved during the day and an overall AQI of 360 was recorded at 4 pm which also falls in very poor category. An AQI between 0 and 50 is considered "good", 51 and 100 "satisfactory", 101 and 200 "moderate", 201 and 300 "poor", 301 and 400 "very poor", and 401 and 500 "severe". According to experts, the Diwali week is expected to witness rise in pollution levels as a two-hour window remained open to burst firecrackers. The Supreme Court had ruled that bursting of firecrackers will be allowed from  8 PM to 10 PM on Diwali, however, permitting the sale and manufacture of low emission "green" firecrackers countrywide. For Christmas and New Year, cracker bursting has been allowed for 11.45 PM - 12.45 AM.
Top 10 points:
1. In the NCR region, Ghaziabad and Gurgaon recorded severe pollution levels, while Noida and Greater Noida recorded very poor air quality.
2. Authorities attribute the dip in air quality to localised factors like construction dust, vehicular pollution as well as regional factors like pollution due stubble burning from Punjab and Haryana.
3. A thick haze due to smog continued to hover over the national capital even as during the day the worst air quality of this season was recorded, authorities said.
4. According to the Centre-run System of Air Quality Forecasting and Research said the pollution is likely to increase to the upper levels of very poor but will not touch "severe" level for the next three days. This is owing to stagnation conditions forced by calm winds with low ventilation and moderate stubble injection," according to the SAFAR.
5. A CPCB-led task force has recommended to the Supreme Court appointed Environment Pollution Control Authority implementation of stringent measures from November 1 to 10, predicting further deterioration in the air quality ahead of Diwali. Some of these recommendations include shutdown of coal and biomass factories, intensification of inspection by the Transport Department to check polluting vehicles and control traffic congestion in Delhi NCR during November 1 and 10.
6. The task force also issued an advisory to the public, asking them to avoid outdoor strenuous activities and minimise use of private vehicles.
7. The task force also warned that at beginning of November the situation may get further deteriorated on account of localised emissions on festival and regional contribution due to stubble burning.
8. The PM2.5 (particles in the air with a diameter of less than 2.5 micrometres) was recorded at 236, the highest of this season. The PM2.5, also called "fine particulates," can be a matter of more serious health concern than PM10. The PM10 level (particles in the air with a diameter of less than 10 micrometres) in Delhi stood at 394, according to the CPCB data. 
9. SAFAR also issued a heath advisory due to increased pollution level in Delhi, urging people with heart or lung disease, older adults and children to avoid prolonged or heavy exertion.
10. It also recommended people to go for shorter walks instead of jogs, keeping windows closed and wearing masks while stepping outside.