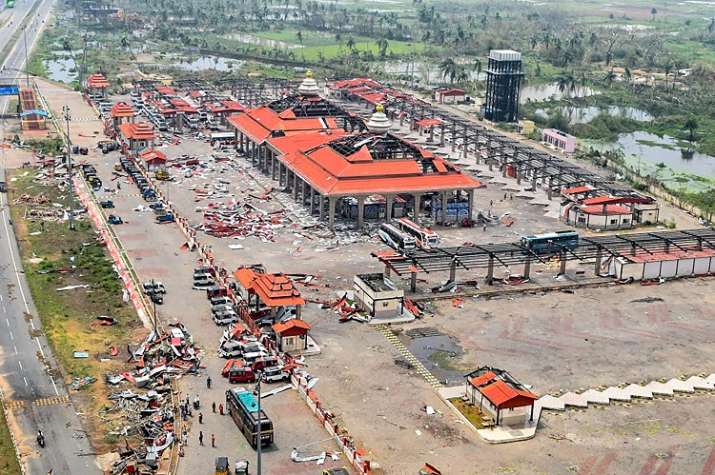 At least 16 people were killed and nearly one crore people were affected as Cyclone Fani wreaked havoc in Odisha on Friday. The government has now mounted a massive restoration work across 10,000 villages and 52 urban areas ravaged by the storm that pounded coastal parts of the state.
Termed as extremely severe cyclonic storm, Cyclone Fani was one of the "rarest of the rare" summer cyclones -- the first to hit Odisha in 43 years and one of the three to hit in the last 150 years.
Winds that gusted to up to 240 kmph swept away thatched houses and destroyed swamping towns and villages, before weakening and entering West Bengal.
It was the severest cyclone to hit the state since the Super Cyclone of 1999, which had claimed nearly 10,000 lives and devastated vast areas of the state.
The previous death toll arising out of the cyclone stood at 8 on Friday, which rose to double within hours.
According to officials, 4 casualties were reported from Mayurbhanj district, 3 each in Puri, Bhubaneswar and Jajpur and 1 each in Keonjhar, Nayagarh and Kendrapara.
Meanwhile, Prime Minister Narendra Modi will visit Odisha on Monday. He spoke to Chief Minister Naveen Patnaik and assured continuous support from the Centre.
Electricity supply was severed across the state to avoid any mishaps due to the cyclone.
Other than this, electric poles and mobile towers were uprooted at some places, which further slowed communication.
Road, rail and air traffic were badly hit as authorities had barred commutation after evacuating a million people from across the state.
Chief Minister Patnaik, who reviewed the situation, said the cyclone tore apart critical infrastructure especially power, telecom and water supply.
"Lakhs of trees were uprooted in the cyclone blocking roads, damaging houses and damaging public infrastructure," he said.
"In fact, for Puri district and parts of Khurda where power infrastructure has been totally devastated, we face the challenge of having to set up the entire electrification afresh," Patnaik said.
Restoration work is now underway by hundreds of engineers and technicians in the state.
Free cooked food will also be provided to the cyclone-affected masses for the next 15 days, the chief minister said.
Flight operations at Bhubaneswar airport resumed Saturday and many stranded passengers were sent to Delhi by a special plane, an official said. Train services were also partially resumed on Howrah-Chennai route, an East Coast Railway (ECoR) official said.
However, no trains will run to and from Puri till May 10 at least, the official said.