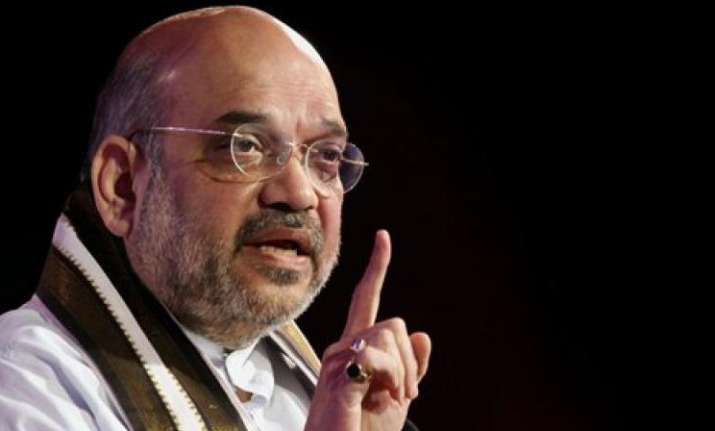 The Congress party is expected to approach the Election Commission (EC) today to demand action against the BJP President Amit Shah who didn't mention the liabilities in his election affidavit.
The party on Saturday alleged that BJP resident did not mention his liabilities in his election affidavit during the Rajya Sabha election in 2017, even though his son Jay Shah's company Kusum Finserve was given loans worth Rs 95 crore by several banks mortgaging Shah's properties.
Congress leader Jairam Ramesh said this is second part of the "Shahzada" serial. 
"Sometime back, its first episode was telecast. Its title was ''Temple Enterprises''. This company had been running into losses for two years since 2012. In the third year, it transacted a business of just Rs 50,000. But in the fourth year, the business took an astronomical leap from Rs 50,000 to Rs 81 crore. 
"And in the fifth year, Temple Enterprises closed down. Now Kusum Finserv has emerged on the scene." 
Ramesh said Jay Shah and his wife are the owners of Kusum Finserv. 
"This is a strange kind of company. First, this is not a company. This is a limited liability partnership. The total net worth of Kusum Finserv is Rs 6 crore. On the basis of this, the company has availed a credit limit of Rs 95 crore from various banks," said Ramesh.
"A company with a limited liability partnership having a net worth of Rs 6 crore was given a credit limit of Rs 95 crore. I don't think, there can be any other such example where an entity with Rs 6 crore net worth has been given a credit limit of Rs 95 crore," he added.
The Congress leader further said: "Kusum Finserv availed loan from various banks and while taking these loans mortgaged two plots of land and a commercial building located in Ahmedabad. The owner of these plots is Amit Shah." 
The leader said Amit Shah's son availed a loan of Rs 95 crore from private and cooperative banks on the basis of mortgaging the land which was owned by his father.
"Last year on July 24, at the time of election for Rajya Sabha, Amit Shan while filing an election affidavit mentioned that he has no liability. 
"He owns two plots of land against which his son took loans from the banks and Amit Shahji declares that he has no liability. Why you did not provide this information in the affidavit. This is because your son has taken from banks on the basis of the title of this land," Mr Ramesh asked.
He also said: "In May 2017, Gujarat Industrial Development Corporation (GIDC) gave a piece of land worth Rs 6 crore to Kusum Finserv on lease. On what grounds was the piece of land given, questions are being raised on this. 
"Within one month, Kusum Finserv takes a loan of 17 crore from a private bank. The land was given on lease to Amit Shah''s son, not to set up a factory but to use this land to take loans worth 17 crore from a private bank. How and why this has happened?" Ramesh asked.
(With inputs from IANS)