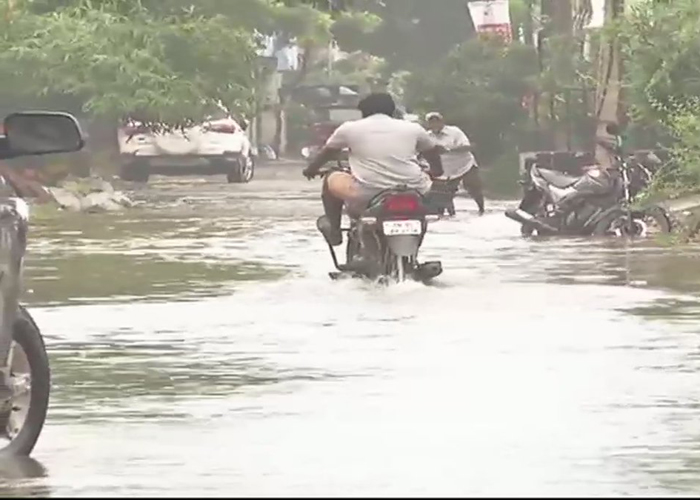 Normal life was crippled in Chennai and its suburbs on Friday as rains pounded the city for several hours from Thursday evening, resulting in 30cm of showers in some eight hours and flooding several localities.
But Chennai residents heaved a sigh of relief on Friday morning as the rain clouds gave way to a bright sun. But the weather department predicted more rains in the next 24 hours, triggering fears of a repeat of the devastating December 2015 Chennai floods.
The number of rain related deaths has risen to 14 in Tamil Nadu, official sources said.
The torrential rains on Thursday flooded localities like Mudichur, Velachery, Alandur, Pallikaranai, Korattur and several parts of North Chennai. 
Residents in these localities and also elsewhere complained that the rain water flowing over the streets was mixed with sewage -- and seeping into their homes.
The government ordered schools and colleges shut in Chennai, Kanchipuram, Tiruvallur, Pudukottai and Nagapattiman districts on Friday. Private sector organisations have been urged to declare a holiday or allow people to work from home.
Residents in localities like West Mambalam, Santhome, Mylapore, Vysarpadi and more complained of clogged sewers.
"The main sewer lines have remained clogged for past several months. Despite several complaints to clear them before the rains start, the authorities did not act," R. Raghavan, a resident of Mylapore, told IANS.
However, the water levels receded on Friday morning in parts of Chennai.
Residents of suburban residential localities like Mudichur and Tambaram, however, said water had entered their homes.
Many in Mudichur protested on the flooded streets against poor preparedness of the government to meet the monsoon threat.
Mudichur was one of the worst hit during the 2015 floods too.
S. Balachandran, Director of the Cyclone Warning Centre, Regional Meteorological Centre, said on Friday that heavy to very heavy rains were expected in the next couple of days.
He said a low pressure area lay over southwest Bay of Bengal off Sri Lanka and Tamil Nadu. As a result, heavy rains were expected over coastal Tamil Nadu and Puducherry.
According to the weather department, Chennai recorded a rainfall of 351.6 mm and neighbouring Tiruvallur and Kancheepuram districts got 327 and 340 mm rains respectively on Thursday.
Apart from Chennai, Tiruvallur, Kancheepuram, Cuddalore, Nagapattinam, Tirunelveli and Thanjavur districts were also lashed by rains.
According to officials, the dry reservoirs that cater to Chennai's drinking water needs were now filling up due to the rains.
HIGHLIGHTS OF CHENNAI RAINS:
11:45 am: As a precautionary measure on Thursday the power supply in the city was cut. It was restored back on Friday.
11:15 am: Clogged sewer lines, coupled with the heavy rain, forced water inside several houses in south Chennai. "The main sewer lines have remained clogged for past several months. Despite several complaints to clear them over the past several days, before the rains started, the authorities did not act," R. Raghavan, a resident of Mylapore, said.
10:45 am: Chennai and Nungambakkam registered 18 centimetre rain and Meenambakkam in the southern suburb recorded 14 centimetre, till 8.30 am today, according to the Met department.
10:30 am: According to reports, the coastal town of Nagapattinam is receiving very heavy rainfall.
10:23 am: Chennai city has recorded 150 mm rains on Thursday night.
10:00 am: Water-logging and traffic jam in parts of Chennai following heavy rain in the city.
#Chennai Severe water-logging in Kovilambakkam area due to heavy rain the region pic.twitter.com/Vle7dhGARk

— ANI (@ANI) November 3, 2017
09:30 am: Torrential overnight rains for about ten hours brought Chennai and neighbouring districts of Kancheepuram and Tiruvallur to a grinding halt, paralysing normal life completely.
09:25 am: Schools and colleges, which are closed since October 31 due to rains, have been shut on Friday as well in Chennai, Kanchipuram and Tiruvallur districts.
#TamilNadu Severe water-logging in various parts of #Chennai due to heavy rainfall in the region ; Visuals from Korattur area pic.twitter.com/yQ3OYEpvKA

— ANI (@ANI) November 3, 2017
09:20 am: It said Thursday's low pressure area over Sri Lanka and adjoining south West Bay of Bengal now lies over South West Bay of Bengal off the Lankan and Tamil Nadu coast.
09:14 am: "Rainfall activity will continue over north coastal Tamil Nadu with heavy to very heavy rain over Tiruvallur, Kancheepuram and Chennai districts during the next 24 hours," IMD director S.Balachandran said.
09:10 am: The mild, intermittent showers post Thursday noon became moderate and then heavy in some pockets last night inundating several more neighbourhoods including West Mambalam and the Guindy Industrial Estate.
09:00 am: As a result, bus, taxi, auto and suburban train services were affected.
08:45 am: While heavy water-logging hindered free movement of vehicles, a "signalling snag," hit train services between the St Thomas Mount and Kodambakkam suburban section since 9.30 pm. Services were restored at 3.20 am today, Railway officials said.
08:32 am: Heavy traffic congestion and serpentine queue of vehicles were seen at the arterial Kathipara grade separator, Guindy intersection, Saidapet and all along till Velachery through the Raj Bhavan point.
08:30 am: Flight operations at the city airport were normal, airport officials said.
08:20 am: Chennai and Nungambakkam registered 18 cm rain and Meenambakkam in the southern suburb recorded 14 cm, till 8.30 am today, according to the Met department.
08:15 am: Areas like Vyasarpadi and Otteri in North Chennai, parts of West Anna Nagar in Central Chennai and Madipakkam in South Chennai are facing heavy water-logging.