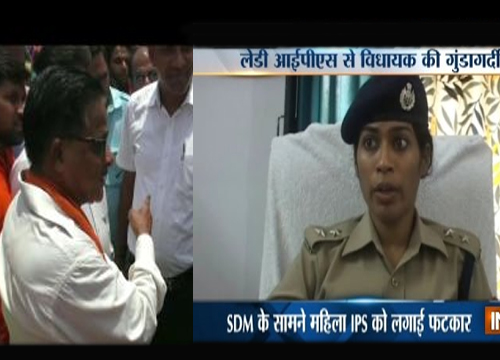 A day after he kicked up a storm over his misbehavior with a lady IPS officer in Chief Minister Yogi Adityanath's Lok Sabha constituency of Gorakhpur, Mohan Das Agrawal, the BJP MLA in question, has now accused the police of violating rules and allowing the running of liquor shops in the residential areas of the city.
To put the case in spotlight, the Sadar MLA has decided to protest against such shops and would sit on a dharna at city's popular Mahatma Gandhi statue tomorrow.
After dharna announcement on Monday; Agrawal said that he would collect and hand over all the data about the illegal liquor shops in the city, especially those running in the residential areas, to the district magistrate.
Agrawal accused police of allowing a liquor shop to function in the residential part of the village, even though the district administration had ordered the closure of the shop. The heated argument on Sunday left local circle IPS officer Charu Nigam, teary-eyed.
He blamed Nigam for forcefully removing the women protestors instead of acting against the liquor shop and for creating disturbance at the spot.
"After the Supreme Court order, liquor shops were shifted from highways to residential areas. Residents were protesting against such shops. These shops have led to disputes. This could not happen without involvement of the police," Agrawal said.
"It is the primary responsibility of every MLA to raise issues of public. If we will not do this, then SP and BSP will get opportunity to make that an issue," he added.
About the incident involving Nigam, Agrawal claimed that he did not misbehave with any officer and only asked her to not interfere when he was talking to the SDM.
When contacted, DIG Gorakhpur Range, Nilabja Chaudhary said that Nigam had not submitted any complaint against the MLA.
The DIG on MLA's allegations said that it is not fair to blame the police. "The excise department issues licence for liquor shops with approval of the district administration. Police have no role in the process," he said.
Later in the day, Nigam thanked her seniors on Facebook for standing by,and mentioned about her training that had not taught her to be "weak".