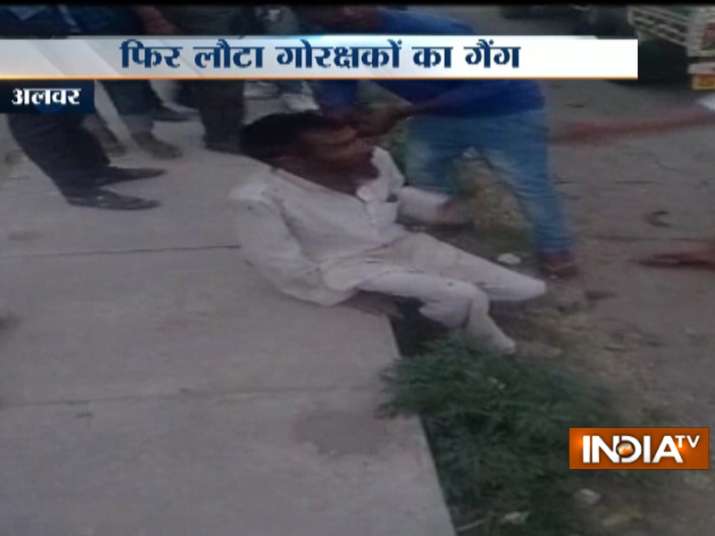 Horrifying visuals caught on camera show a man being brutally thrashed by a band of goons in broad daylight in the middle of a highway over suspicions of cow smuggling. The man, identified as Pehlu Khan, later succumbed to injuries at a hospital. 
Four others were critically injured after they were assaulted by a gang of 'gau rakshaks' in Rajasthan's Alwar.
According to police, the deceased man has been identified as Pehlu Khan. He was brutally beaten up by a gang comprising 15 members on the city highway on April 1. He succumbed to his injures at a local hospital here today. 
Police said that the incident took place after cow vigilantes learnt that Khan and others were transporting cows from here to Haryana. 
Mukhtanand Agarwal, Alwar Collector said that Khan was transporting cows in six vehicles along with others. All of them including the deceased belong to Haryana's Nuh district.
The injured persons were admitted a local hospital where they are undoing treatment.
Police said that they have registered a case of murder against six persons and 200 unknown people.
"Police had prior information that few people were smuggling cows. Police managed to seize three vans but few vans managed to escape. These vans were stopped by gau rakshaks. A man was killed in the incident which is unfortunate. A case has been filed and police is investigating the matter," state Home Minister GC Kataria said.
In Rajasthan, the export of cows for slaughter is strictly prohibited under the Rajasthan Bovine Animal Act, 1995. 
The incident comes in the backdrop of Uttar Pradesh government's decision to crackdown on slaughterhouses and meat shops operating illegally in the state. 
The latest incident is a stark reminder of 2015 lynching of a Muslim man in Uttar Pradesh's Dadri on suspicion of stealing and slaughtering a stolen cow.