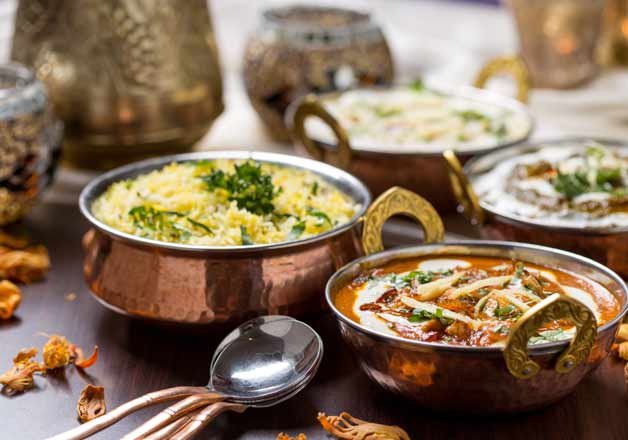 New Delhi: For celebrity chef Izzat Hussain, who started out life as a Unani practioner, creating food that is easy to digest and beneficial to the health of countless patrons is de rigueur. Thus, his USP is preparing mouth-watering dishes without water! Yes, you read it right, without water.
"To maintain consistency in the taste of my food, I don't use water as its taste varies from region to region," the chef told IANS at an ongoing Awadhi food festival here.
So, what does he substitute water with? A variety of liquids but principally milk.
"There is a certain consistency I find in milk and that's why it's my preferred choice. It definitely enhances the overall taste. I use milk for my dishes, milk for kneading dough, cream for pickles and so on," Izzat explained.
With an enviable lineage tracing back to Nawab Wajid Ali Shah, the last nawab of Oudh, Hussain is known the world over for his Awadhi cuisine.
"There is a strong need to keep the trust and taste of the people who come to savour authentic and healthy food," he said at the Radisson Blu hotel here.
Having practised Unani, Hussain said he gives a lot of importance to the health of his patrons. "I take great pride in creating food that is easy to digest and beneficial to one's health," he emphasised.
Asked about the idea behind the food festival, the celebrity chef said: "The concept of good food and genuine 'nawabi' cuisine is changing with every passing day. With these food festivals, I intend to keep alive the originality and heritage of these delicacies and present authentic food on the platter."
Hussain also debunked the popular belief that Mughlai food needs a lot of oil to prepare and is difficult to digest.
"People think that Mughlai food contains a lot of oil and ghee, but the fact is that these foods take much less oil to prepare compared with other dishes. In fact, it gives us an option to drain out most of the oil once the food is cooked," Hussain said.
Hussain has a unique distinction of giving to the culinary world a loaf named after him. The flat bread or chapati - named Izzat ki Roti - is made by mixing mixed-grain flour with secret Unani herbs.
Now he plans to develop a concoction of green tea and mulethi (medicinal spice liquorice) which, he said, could be a healthy alternative to normal tea and coffee.
Talking about the food festival, he said it is "one of the best" Delhi has seen in the recent past.
The lavish fare on offer at the festival includes mouth-watering reshmi galouti kebab, malai boti kebab, mutton nehari, murgh begum pasand, mutton dum biryani and murgh tursh pulao, among others for the non-vegetarians.
For vegetarians, paneer kebab, Izzati kebab, Shahi Korma, Chakundari Paneer, Kathal Stew, Kathal Biryani, and Kaju Biryani are on offer.
So, whether you are a vegetarian or a non-vegetarian, you can certainly dig in the platter on offer at the food festival and lick your fingers amid the lush ambience and strains of 'qawwali' singing in the background at the Radisson Blu hotel.
FAQs:
Where: Radisson Blu, Paschim Vihar
Timings: 7.30 p.m. to midnight
Dates: July 24-August 2
Meal for two: Rs.3,000 (without alcohol)