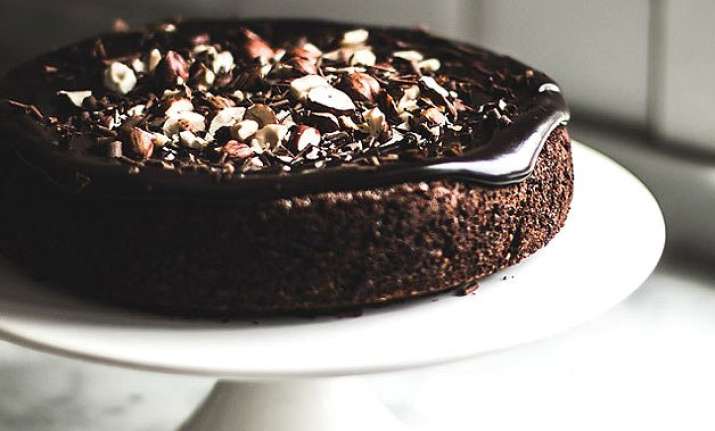 New Delhi: Is it eggless - this is the question that probably every vegetarian asks before treating himself/herself to an exotic looking cake/pastry. And when it is a chocolate cake, it becomes difficult to resist that temptation.
Well, it is not that tricky anymore! Here we bring a quick eggless chocolate cake recipe that would not only intrigue you to try it but also make you go gaga over the love of this dessert.
Have a look!
Ingredients: (For cake)
All purpose flour/maida - 1 1/2 or 2 cup
Cocoa powder- 4 table spoon
Sugar - 1 1/2 cup
Condensed milk - 1 1/2 cup
Vanilla essence - 1 table spoon
Baking soda -1 table spoon
Baking powder - 1/2 table spoon
Melted butter- 4 table spoon
Ingredients: (For icing)
Icing sugar - 1 1/2 cup
Cocoa powder - 1/4 cup
Butter - 25gms
Method:
1. Preheat the microwave at 180 degree Celsius.
2.  Grease a microwave safe dish with slight butter or oil and pour cocoa powder, baking powder, baking soda and all purpose flour and mix them all well.
3. Add sugar, condensed milk, vanilla essence and melted butter to the mixture and mix well ensuring that no lumps are there.
4. Put the dish in preheated oven for at least 30 minutes or when the inserted toothpick comes out clean.
5. Remove the cake safely by ensuring that it gets completely detached from the dish. You can cover the dish with a saucer and then flip it in order to make sure that it doesn't break down in the process.
6. Let it be cool to be ready for the frosting.
For frosting:
1. Sift the cocoa powder and icing sugar into a bowl.
2. Put butter in the mixture
3. Add hot water in order to melt the butter entirely till a thick paste is formed.
4. Mix the batter well ensuring no lumps are found and keep the paste uniform (add more water if the consistency is not as smooth as desired).
5. Smear the paste well on the cake and top it either with fruits, gems, chocolate chips or the way you desire it to look like.