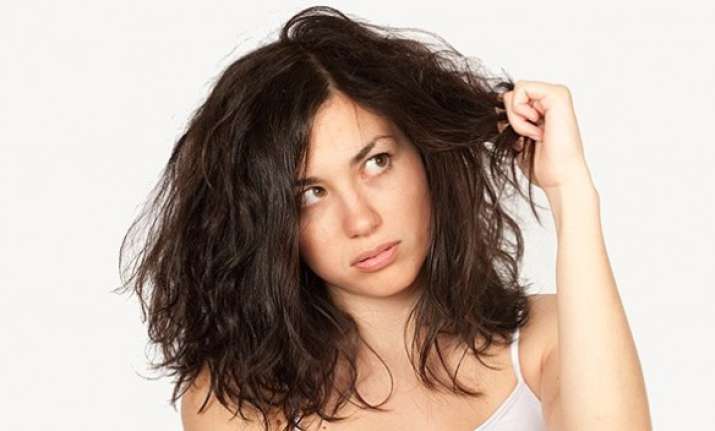 Monsoons, the weather we love, the weather of love. But the humidity and rainwater plays a havoc on our hair and skin. Isn't it? With the onset of the monsoon season, comes the various beauty problems which an individual has to worry about. Rains are something which each one of us likes, but that's also the period which demands maximum amount of care to be taken when it comes to your hair.  
Frizziness in the hair is one of the major problems among the women. Acid rains, dirty rainwater and an increase in the levels of humidity adversely affect your scalp which in turn impacts the quality of your hair.
Frizziness is caused due to the roughness and dryness in the hair. This in turns leads to an excessive amount of hair fall. Natural cure for frizzy hair is available in abundance and you can pick them right out of your kitchen. Oil varieties like almond and coconut, egg, banana, avocado, honey, yogurt and even beer are effective when combined and applied to the head or hair as per prescription.
Also Read: How to use Almond Milk for beautiful & lustrous hair?
Dr Amit Karkhanis shares his expert advice on how to keep your hair frizz free during monsoons.
Keeping your hair dry is a must 
For all those who like getting wet in the rains should make it a point of covering their hair while getting wet. The acid in the pouring water may have an adverse effect on your hair. Usually, we lose abbot 60 – 70 strands of hair but in monsoons, we somewhere lose about 200 strands of hair without even knowing that.  Preventing your hair from coming in contact with the acidic water, helps you regain your hair quality and look healthy.
A lot depends on how to shampoo your hair
Keeping your hair and scalp clean and clear during monsoons is something which is extremely important. The increase in the level of humidity may lead to problems like roughness, dryness, and dandruff. 
This is the reason why you should wash your hair on a regular basis with a mild shampoo which does not have many chemicals in it. Avoid using harsh or strong shampoos as they have a lot of chemical content within which is not usually good for the hair. While choosing the shampoo to see to it that the shampoo has sufficient amount of glycerin in it. Glycerin help in hydrating your hair inside out.
Also Read: How does Shraddha manage to keep her hair voluminous?
Contrary to a popular belief which says washing your hair frequently, leads to hair loss – you can even wash your hair daily with a mild shampoo if your hair is exposed to acidic rainwater. 
You can also use an oil treatment once a week for your hair. Oiling is a wonderful way to prevent dryness in the hair. While applying oil, one thing which is to be kept in mind is that the oil should be applied more in the roots and the tips.
Use a good Conditioner
Shampooing your hair is not the only thing which will do wonders for your hair. Applying a good conditioner is equally important.  
Brush Effectively
Combing your hair is a very tricky thing, especially with ones who have frizzy hair. While combing is necessary to untangle the knots in the hair, overdoing can damage your hair. It is always advised to comb your hair after your hair is completely dried. Choosing the right comb for your is also very important. For frizzy hair, a wide-tooth comb is preferred.  
Use homemade masks for your hair
An effective hair mask to control the dryness of the hair can also be made at home. The ingredients you would require are banana- single and ripe form, honey- 1 tablespoon and a cup of olive oil. Mix all three ingredients really well and apply over your hair. It will get a development of a coat which will cover your entire hair. Once you have applied this homemade mask, it is important to apply it all over your hair. This needs to be kept for half an hour and then wash away. Do it regularly during monsoon and see the difference.
Stay away from Hair Styling Products
It is okay to use hair styling products if you are not gifted with naturally beautiful hair. However, one to refrain themselves from using hair styling products and hair dryers during the monsoons. The gum and gel in these products may lead to dryness and dandruff.