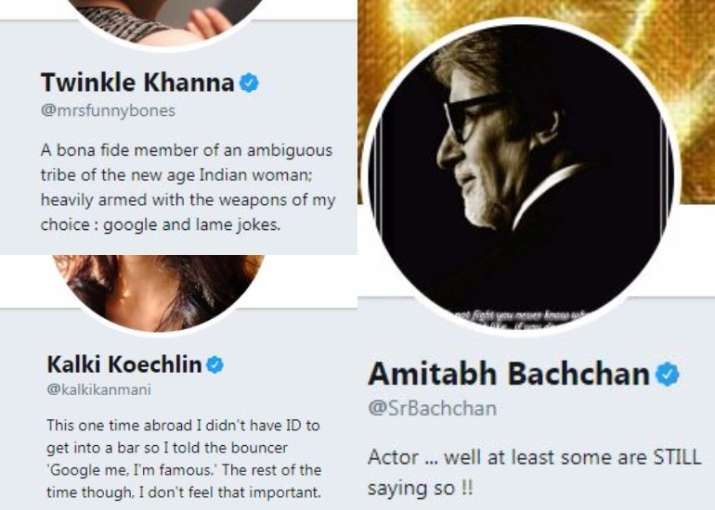 Indian celebrities are at their best when they are on their battlegrounds, be it a cricket field or a film set. But when outside their respective fields, they are hands-down humorous, witty and cryptic at times. Twitter is a place where we can see the real and unseen sides of our favourite celebrities. While most of the celebrities have plain and jaded Twitter profiles, there are a number of celebs who's Twitter bios are even more interesting to read than a book itself. Here are some of the Indian celebrities with the a catchy catchphrase.
Twinkle Khanna
"A bona fide member of an ambiguous tribe of the new age Indian woman; heavily armed with the weapons of my choice : google and lame jokes.". Mrs. Funnybones couldn't be funnier than this! 
Anushka Sharma 
If you ever stumbled upon her Twitter or Instagram account, her bio will make your head spin with a seemingly-gibberish phrase. But that's not nonsensical. Illegitimi non carborundum is a Latin terms which means Don't let the b******* grind you down
Also Read: Anushka Sharma can't relate to bubbly roles anymore, here's why
Varun Dhawan 
Artist, figuring out the cheat codes for the game called life- this is Varun Dhawan's Twitter bios. While most of the celebs have either left their bios blank or mundanely filled it with a single world 'actor', Varun Dhawan chose to stretch it a bit extra. We're wondering if Mr. Dhavan got his book of cheat codes for life. 
Uday Chopra 
The yesteryear hunk had the most interesting yet mind-boggling Twitter bio among all. It says, "Pretender. Believer of unbelief. Religion starter. Zombie lover. Food eater. Women whisperer. Liar of that last part." It was going alright till Pretender, that it took a befuddling turn after one word. Only Mr. Chopra can decipher this code for us. 
Karan Johar 
The filmmaker who has embraced fatherhood recently has his kids' name in his bio. It says, "Roohi aur Yash ka papa! Hiroo aur Yash ka beta". 
Also Read: Kajol and Karan Johar become friends on social media. Is reconciliation on cards?
Richa Chadda 
Mainstream is just not the term for this flamboyant actress. Just as interesting a personality she is in her real life, her Twitter bio is downright witty and difficult to understand for most of us. It reads, "An egg-white omlette is a fair,pleasant,non-threatening creature of manufactured sexuality. I am a sunny side up!" 
Taapsee pannu 
"All in all REAL.... with flesh, blood and SPINE :)". We can make sense of the word 'Spine' given in uppercase. We can recollect a several incidents where Ms. Pannu spoke her heart out without thinking twice about people's perception of her. 
Mahendra Singh Dhoni 
You can find loads of stuff on Former Indian Captain MS Dhoni's Twitter profile. His Twitter bio is a testimony to his larger than life kind of lifestyle. Apart from cricket, his interests lie in pets, music, bikes and of course, chicken butter masala. 
Amitabh Bachchan 
The actor's bio speaks a lot in itself. It reads, "Actor ... well at least some are STILL saying so !!. Some? I suppose many find Amitabh Bachchan as one of the finest actors in the industry to this day. There aren't less proofs to validate the fact. 
Also Read: Amitabh Bachchan to play the lead in Sairat director Nagraj Manjule's debut Bollywood project
Kalki Koechlin 
"This one time abroad I didn't have ID to get into a bar so I told the bouncer 'Google me, I'm famous.' The rest of the time though, I don't feel that important."
In case we've missed out on someone or you stumble upon some Twitter bios which you find interesting, drop a comment here. 
For more lifestyle news, follow our Facebook page