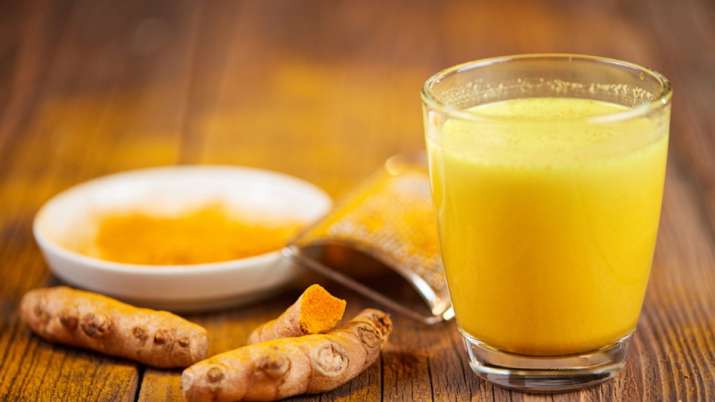 Health benefits of Turmeric Milk or Haldi Doodh: Turmeric Milk is one of the best concoctions to stay healthy and free from various diseases. It helps to boost the immunity of the body. Turmeric is loaded with curcumin which helps to fight bacteria and virus. It makes the body strong and ensures power to fight back various infections. Mixing curcumin in Milk helps to get absorbed in the fats and tissues of the body. A pinch of turmeric is enough to add in a glass of lukewarm milk to benefit the body. In fact, turmeric is used for various medicinal purposes too.
Here are some of the health benefits of turmeric milk or Haldi Doodh
Drinking a glass of turmeric milk daily helps to boost the immunity of the body.
Turmeric Milk helps to heal injuries. Drinking haldi doodh helps to recover from an injury and also keeps the infections at bay. It is antibacterial in nature which prohibits the attack of infections in the body.
Haldi doodh helps to cleanse the blood, thus makes the skin glowing flawlessly. It helps to keep the skin away from infections and allergies.
People who are having long-term pain in joints and bones must drink a warm glass of turmeric milk every day to get instant relief from the pain. It helps to cope up with joint pain, arthritis and rheumatoid arthritis.
Turmeric is antiseptic, anti-bacterial and anti-allergic in nature. Thus, it helps to fight the overall infections that might harm the body.
Daily consumption of turmeric milk helps to have a good night sleep. 
Turmeric has anti-ageing properties and helps to prevent the skin from premature ageing.
Haldi Doodh also helps to lose weight as it is anti-inflammatory in nature. 
Not just this, drinking turmeric milk daily helps to make the digestive system strong and helps to promote digestion.