Follow us on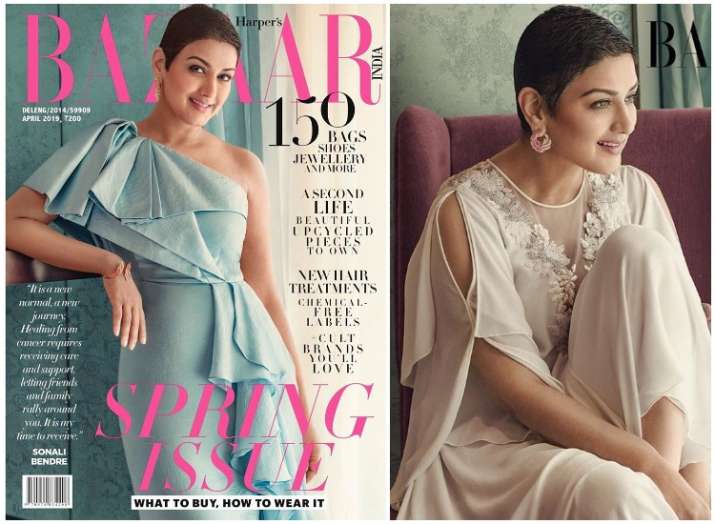 All the fans were shocked when they get to know that Bollywood actress Sonali Bendre was suffering from metastatic cancer last year. The actress, whose brilliant performance on the silver screen has always been recognised and applauded, was to undergo cancer treatment to cure her disease. While the actress used to share updates from her treatment with her fans, the 44-year-old actress finally won over her disease.
Sonali is now back in Mumbai and started working as well. Currently, the actress, who has inspired many people with her positive attitude in the toughest phase of her life, can be spotted on the magazine cover of Harper Bazaar. Sonali's stunning pictures from her latest photoshoot is a symbol of victory over fear.
In the pictures, the actress is posing beautifully and with confidence in her bald hairstyle. Shared by publication's official social media handle, its says: "Revealing our April issue cover star, Sonali Bendre (@iamsonalibendre ). When a cancer diagnosis turned Sonali Bendre's life upside down, she decided to make the best of a difficult situation. In a heart to heart with journalist Sanjukta Sharma (@sanjuktasharma), Bendre reveals how her inner optimist took over, and how she allowed the world into her new, challenging reality. Bazaar speaks to her about hope, grit, and honesty."
Check out all the latest pictures of Sonali Bendre here:
Speaking of Sonali Bendre's bald look, the actress also took to her Instagram handle and shared a video where a hairstylist can be seen setting the little hair of Sonali. Of course, this was happening to plook perfect for her latest photoshoot that was to be done. Sonali wrote a couple of words as her caption while uploading the video. It says: "Took me a while to get used to having little hair. But once that set in, there was no looking back (literally!) It has been months since I've even needed a 'trim'. So, during the @bazaarindia shoot when @mickeycontractor said that I needed one, my first thought was, "Really??". Before I could react, he was all set – armed with an eyebrow scissor, ready to go at it! I couldn't stop smiling. Never thought I'd get a makeover of sorts like this, but I guess it's #MyNewNormal."
To see a few other happy pictures of the actress in her bald hairstyle, keep scrolling!
For all the latest Lifestyle updates, check out our Facebook page!