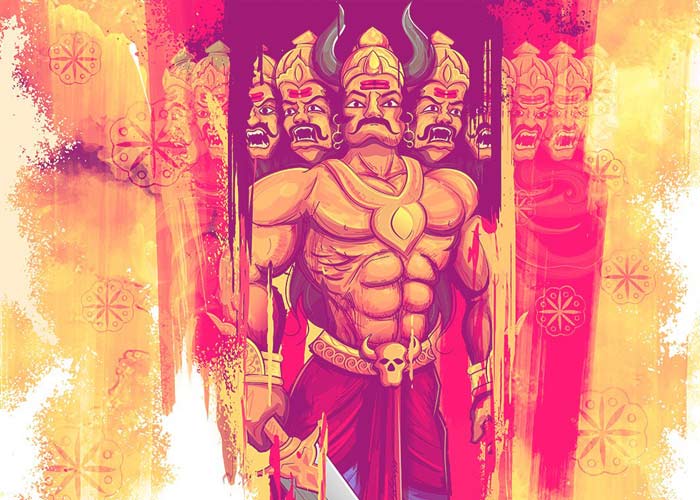 The tenth day of Sharad Navratri is observed as Vijayadashmi, to mark the 'vijay' or victory of Lord Rama over evil King Ravana. It is popularly known as Dussehra. On this day, it is believed that Lord Rama killed the evil king Ravana, thus ending his wicked rule in Lanka. It falls on the tenth day of Ashvin month of Hindu calendar. Usually, it is observed in the month of October-September of the Gregorian calendar. Every year, people burn Ravana effigies to signify the eternal victory of good over evil. In some places, Ravana is also worshipped for his skills and knowledge. He was an erudite of all the Vedas and well-learned in the field of astrology. Thus, he is worshipped for his knowledge and skills. This year, Dussehra is falling on 30th September, 2017 on Saturday. 
Another importance of this day is that, in Eastern parts of India, it is celebrated as the last day of five-day long festival Durga Puja. It is celebrated to commemorate Goddess Durga's victory over the buffalo demon, Mahishasur to help restore Dharma. It also marks the end of Ramlila, with the burning of Ravana effigies in open grounds. Alternatively, the day also holds importance as it is considered to be a day to worship the Goddess of knowledge, Saraswati. Things like books, pens, ledger, arms, weapons, etc are worshipped during the morning prayer. 
To celebrate this day, you can send Dussehra messages, quotes, greetings and images to your friends and family over WhatsApp, Facebook and Twitter. 
Dussehra 2017 Quotes, Messages and Greetings for WhatsApp/Facebook 
A time for celebration, A time for victory of good over bad,
A time when world see the example of power of good.
Let us continue the same "true" spirit.
Blessing of Dussehra
Celebrate the victory of the forces of good over Evil.
Lets celebrate an auspicious day to begin new things in
life....HAPPY DUSSERA....!!
Vijaya dashami ka shubh absar
apke aur apke parivar ke jivan mein sukh,
samradhi aur shanti bharde.
Happy Dussehra!!
An auspicious day to start with any good work..
It was today that good won victory..
over bad May this day clear all..
hurdels of your life and start..
new era of wellbeing
Happy Dussehra....!!
Day 4 victory of Ram over Ravana. 
When in Satya Yug, Ram killed da great demon and king of Lanka, Ravana.
Lets celebrate together and believe in blessings of God for good.
Dasara mangalmay ho!
As the candlelight flame
Ur life may always be happy,
As the mountain high
U move without shy,
As sunshine creates morning glory
fragrance fills years as Flory,
All darkness is far away
As light is on its way.
Wishing U all a very Happy Vijaya Dashami.
Dussehra 2017 Facebook/WhatsApp Images
You can also set these images as your display picture to wish a very happy Dussera to your friends and family. Send these pictures as separate message to wish them all the good on the occasion of Dussehra.