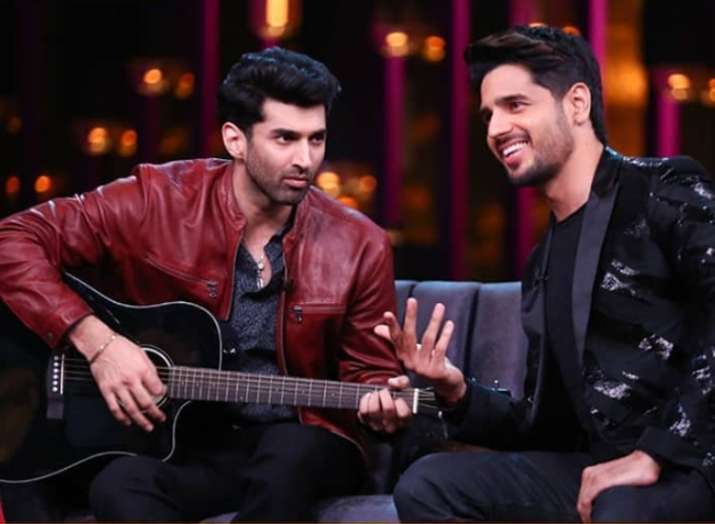 Koffee With Karan 6 Highlights: The much-awaited Koffee With Karan 6 episode is finally here when handsome hunk Sidharth Malhotra and Aditya Roy Kapur graced the Koffee couch. Fans have been waiting for a long time to see the handsome hunks share the Koffee Kouch together and here they are, spilling the beans about their love life, career and failure in Bollywood. For those who don't know, Sidharth and Aditya bonded when they were on the Dream Team, the international concert tour in 2016. Karan, who was also part of it, knew about their dosti and it was his suggestion to bring the boys as a team on his show. The two dapper actors also work out in the same gym which has helped them build an even stronger bond. 
10:00 pm- Next came the gaming round which gave Sidharth Malhotra a chance to redeem himself as he lost the rapid fire round. But he also lost there to Aditya Roy Kapur as he was able to call Alia Bhatt, Arjun Kapoor and Varun Dhawan while Sidharth couldn't make a single call.
09:45 pm- Its Rapid Fire time! Both the actors performed brilliantly as Karan Johar threw questions at them. Aditya Roy Kapur went candid about who he would like to play strip poker with and named Tiger Shroff since he has a good body and jokingly claims that both Parineeti and Shraddha doesn't have talent when KJo asked him to pick one. Aditya also said that he thinks Deepika Padukone had the best eyes in Bollywood and the song 'Main Aisa Kyu hoon' describes him perfectly. When asked if Baywatch was to be remade in Bollywood, who he thinks could play Pamela Anderson, Aditya took Disha Patani's name. 
During Sidharth's rapid-fire, he revealed that Parineeti's singing is something that he tolerates and Jacqueline Fernandez's energy makes him jealous. He also claims that Bollywood actor Vicky Kaushal makes him feel insecure. Next Karan Johar asked Sidharth, who would he like to pair Arjun with in Bollywood and Sidharth replied with Parineeti's name. To this Karan said, "Malaika will be upset." Further on, Sidharth said he wanted Saif Ali Khan as his sibling Kareena Kapoor Khan as his wife, leaving both Karan and Aditya shocked. Given a choice between Sara Ali Khan and Janhvi Kapoor, Sidharth played it safe and took Ishaan Khatter's name. Sidharth also revealed that he doesn't mind dating Shraddha Kapoor as she look hot.
Karan Johar felt that Aditya Roy Kapur was more candid and announced him as the winner.
09:35 pm- Next KJo played videos of the two actors' close friends and family. While in Aditya's videos his brothers revealed interesting childhood memories about the actor, Sidharth's friends revealed that how he once went out of his way to meet a fan who was terminally ill. Another friend revealed how in the initial days of struggle, Sidharth had no curtains in his small bedroom and he used a huge painting to cover the windows whenever he got a girl over to his house. 
09:25 pm- Karan Johar revealed that Aditya Roy Kapur is very inclined towards music. The host revealed that Aditya composes his own songs, so he arranged a guitar for the actor and he sang one of his own songs. Sidharth too joined in and they sang Kishore Kumar's hit song 'Keh du tumhe'. 
09:15 pm- Sidharth Malhotra on failure, ""I just become quiet and aggressive. For me, I have come pretty far from where I grew up. So if I didn't have the drive and the aggression, I wouldn't have made it because there are millions of kids just like us who want to become leading actors. So my first reaction to something that I can't get is aggression. Like Kyun nahi?"
Karan Johar reveals that he has played between cupid between Sidharth and Kiara Advani. However, Sidharth called her 'just a future co-star.'
Sidharth and Aditya are also gym buddies. Sidharth revealed that Aditya is the first to reach the gym and is quite a social bee. He is familiar with everybody and keeps every other gym goer entertained. Sidharth said, "Adi has introduced me to everyone. Whenever Adi is in the gym the hottest girl is in the gym."
09:10 pm- Karan Johar introduces the two handsome hunk of Bollywood- Sidharth Malhotra and Aditya Roy Kapur. Sidharth Malhotra teases filmmaker Karan Johar on his dressing quotient the moment he entered. The chat starts with KJo talking about the love affairs of the two handsome duo. While Aditya denies dating Shraddha and Parineeti, Sidharth asks him to open up. Sid takes a dig at Tiger Shroff and Disha Patani that they always get papped outside a restaurant. Next KJo talks about the failure of OK Jaanu with Aditya who revealed it was hard for him to pick up from that failure and he shut down.
KJo asked about Sidharth's equation with Jacqueline Fernandez and the reason about his break up with Alia Bhatt. Sidharth replied, "We haven't met after it. Our relationship is civil... I don't think it's bitter. It's been a while. I have known her for much longer even before we dated. I gave my first ever shot with her in SOTY so there is so much history. There is a reason why two people decide not to be together. There were lots of ups and downs. When you take yourself from a situation, you look at all the happy and good memories."
Tonight on #KoffeeWithKaran. pic.twitter.com/zGIz2BUsG6

— Star World (@StarWorldIndia) February 3, 2019
More Bollywood stories and picture galleries
For all latest news and updates, stay tuned to our Facebook page