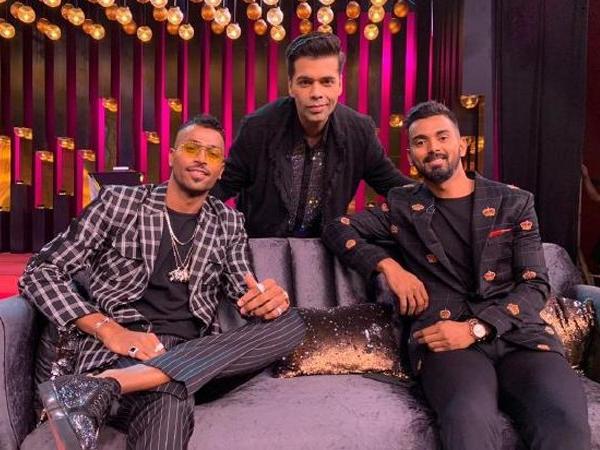 Indian cricketing duo of KL Rahul and Hardik Pandya are set to appear on highly popular show Koffee with Karan hosted by Karan Johar. Both Hardik and Rahul have some interesting moments in the show and reveal a lot of secrets about them including their dating lives. Both of them were asked few tricky questions during the famous 'Rapid-fire round,' and in one of the questions both were asked who was the better batsman between current Indian skipper Virat Kohli and cricket legend Sachin Tendulkar.
The duo speak about their lifestyle, Bollywood, their crushes, favourite movies, actor and actresses in what was a highly fun episode for cricket lovers.
Here are the Highlights for Koffee With Karan season 6 episode featuring  KL Rahul and Hardik Pandya
10: 00 PM: KL Rahul wins the sports quiz round.
9: 50 PM: It's a tie between Rahul and Hardik in the rapid fire round. Now, it's time for the sports quiz round.
9: 45 PM: K L Rahul and Hardik himself revealed that he is a lot into dating. Rahul said that no matter whichever party they go, Hardik knows every girl that's there in the group as he has been with her earlier. 
9: 40 PM: And the controversial Rapid Fire Round begins with KL Rahul. Karan asked Rahul which is the most overrated film of 2018 according to him and the cricketer answered - Dhadak. It was quite an oops moment for him when KJo revealed that he made the film. However, everything was taken sportingly.
9: 35 PM: When K L Rahul told that he used to have a crush on Malaika Arora, Karan Johar made the biggest revelation. He finally confirmed that Arjun Kapoor and Malaika Arora are a couple and they are indeed dating! 
9: 30 PM: Karan introduces 'who is more likely to ' game. It is revealed that KL Rahul has been mistaken for Virat Kohli and Hardik Pandya has sent the same flirty message to two different women.
9: 20 PM: Hardik and KL Rahul's family and friend reveal interesting things about the cricketers. Dinesk Karthik reveals that KL Rahul cribs a lot. 
9: 15 PM: KL Rahul talks about his first hundred in cricket. He said that he had no idea that he would be playing the match. It was just seconds before that he got to know he would be batting that day.
9: 10 PM: KL Rahul revealed that he met Karan for the first time last year at Sonam Kapoor's Diwali party. The director was drunk and outside the washroom he asked Rahul who is he. When Rahul told him that his name is Rahul and he is a cricketer, KJo responded saying that Rahul is the name is uses a lot in his films. 
9: 05 PM: Hardik's link-up rumours with Isha Gupta and Elli AvrRam have made headlines several times. When the cricketer was asked about it, he didn't accept it but he didn't even deny it.
9 PM: And so it begins! Karan Johar welcomes viewers to an all new episode of Koffee with Karan season 6. The host welcomes the young cricketer duo KL Rahul and Hardik Pandya on the Koffee couch. KL Rahul calls Hardik  the 'diva' as he wants the limelight on him all the time.