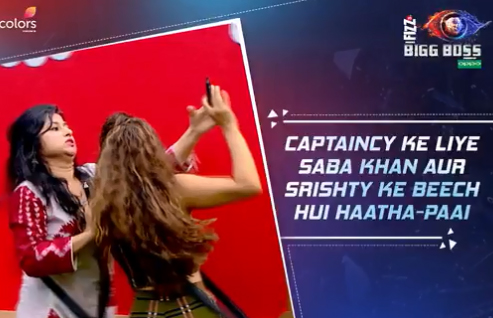 The Khan sisters Saba, Somi and TV actress Srishty Rode became the nominated contestants for the captain. Saba and Srishty participated in the captaincy task. Both Saba and Srishty got indulged in physical fight during the captaincy task. Following which, Bigg Boss cancelled the captaincy task and announced that Saba and Srishty will not become captain of the BB house this season. After the eviction of Sreesanth, Bigg Boss contestant, Deepak Thakur was seen singing an emotional self-composed track for Sreesanth. Meanwhile, after the eviction of Bhajan singer Anup Jalota, Jasleen Matharu was seen bonding with Shivashish Mishra.  
Bigg Boss 12 October 11 Highlights:
9:58 pm: Dipika blames Srishty for loosing the task. Meanwhile, Sreesanth says he will now teach Dipika a lesson. Anup also joins Sreesanth. Sreesanth says he will now show true faces of Nehha and Dipika to the world.  
9:55 pm: Dipika says Srishty was wrong. Anup and Sreesanth take Srishty's side. Sreesanth says he hates Dipika for being manipulative.  
9:45 pm: Surbhi and Romil convince Saba. Srishty gets emotional and blames Saba for hurting her physically. Jasleen also supports Saba. Saba gets emotional. Bigg Boss asks Dipika to elaborate the captaincy task. Dipika explains the complete task to the housemates. Bigg Boss says its time to take some strict action against the responsible contestants and cancels the captaincy task. Bigg Boss announces that Saba and Srishty will not be nominated for captains in this season of Bigg Boss. Meanwhile, Bigg Boss asks Romil and Surbhi to continue the captaincy charges for this week. 
#RomilChoudhary and #SurbhiRana will continue as the captains of the house! Did you see this coming? #BB12 #BiggBoss12 @SportobyMacho

— COLORS (@ColorsTV) October 11, 2018
9:38 pm: Housemates discuss the captaincy task. Saba and Srishty are all excited for the captaincy task. Saba and Srishty fight tough during the captaincy task. Saba blames Srishty of hurting her physically. Surbhi supports Saba. Saba and Srishty indulge in a physical fight during the task. Srishty decides to give up and locks herself in the washroom. Karanvir, Nehaa and Saurabh try to convince Srishty to complete the task.  
Task mein hui #SabaKhan aur @SrSrishty ke beech jung, ab kya hoga iss jung ka natija? Dekhiye #BB12 mein abhi! #BiggBoss12 @Pepperfry pic.twitter.com/0NsgQKzic9

— COLORS (@ColorsTV) October 11, 2018
9:28 pm: Karanvir and Srishty discuss about the captaincy task. Karanvir says he will nominate Dipika's name for kalkothri. The final captaincy task begins. Nehha reads the captaincy task instructions. Saba and Srishty are all set to fight for the captain position. Dipika is the coordinator of the captaincy task. 
9:20 pm: Dipika says she voted Sreesanth for the eviction as he wanted to meet his family. Meanwhile, Sreesanth and Anup says Dipika is playing fake and voted him for her personal benefits. Jasleen and Nehha talk about Sreesanth's eviction. Housemates discuss about a past incident. Srishty says Sreesanth eviction is shocking. 
9:05 pm: Housemates discuss Sreesanth's eviction. Surbhi says she is in immense love with Sreesanth. Deepak Thakur sings an emotional song for Sreesanth. Housemates get emotional after listening to Deepak's song. Housemates wake up to the song Pretty Woman. Sreesanth says Dipika is not at all hurt by his eviction. Meanwhile, Anup says even Srishty was not also not hurt by his eviction. Dipika clarifies why she voted Sreesanth during the mid-week eviction. Meanwhile, Sreesanth is very upset with Dipika. 
.@sreesanth36 ne kaha @ms_dipika ki baat par laga tha unhe jordaar jhatka. Dekhiye aur kya keh rahe hain woh ek chote se break ke baad! #BB12 #BiggBoss12 pic.twitter.com/nBOJEnXtp3

— COLORS (@ColorsTV) October 11, 2018
8:45 pm:
Here are some exclusive pictures of what's about to hit the housemates in tonight's episode! Who do you think deserves to be the captain this week? #BB12 #BiggBoss12 https://t.co/OKPEecLqSu

— Bigg Boss (@BiggBoss) October 11, 2018
8:40 pm:
Captaincy ki takkar hone wali hai tagdi! #SomiKhan aur #SabaKhan ya @SrSrishty, kise milegi iss baar ye position? Janne ke liye dekhiye #BB12 aaj raat 9 baje. #BiggBoss12 pic.twitter.com/0sxlDROdmo

— Bigg Boss (@BiggBoss) October 11, 2018