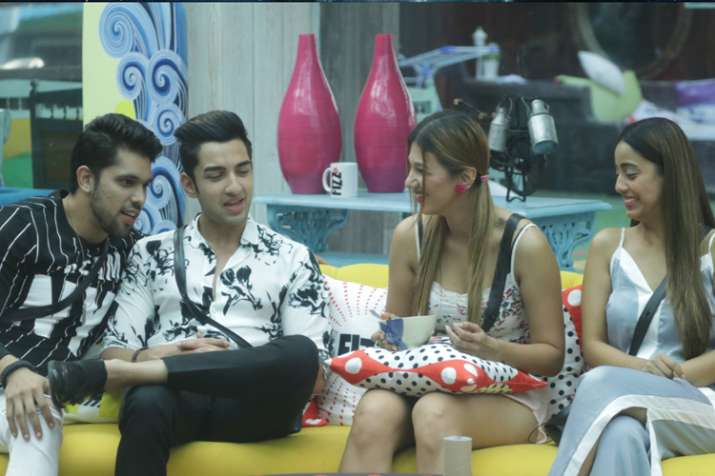 As part of the Diwali surprise, few lucky contestants of the Bigg Boss 12 show got an opportunity to receive the video message of their family members and relatives in the yesterday's episode of the show. Among all the contestants, Surbhi, Somi, Deepak, and Jasleen were selected to get the video message of their family members. Romil made a big sacrifice for Somi in yesterday's episode as he allowed her to see video message of her family in his place. Romil's gained appreciations for his sacrifice from the housemates. After the emotional moment in the house, Bigg Boss 12 contestants had a tough fight for the captaincy task in tonight's episode. To get all the latest episodes of Bigg Boss 12 watch the space below.
Bigg Boss 12 November 9 Highlights : 
10:10 pm: Surbhi clarifies the issue with Romil. 
9:59 pm: Somi and Deepak pacify Surbhi. Meanwhile, Surbhi gets emotional. Surbhi apologises to Romil. 
9:45 pm: Dipika and Megha praise Happy Club members for always supporting each other. Srishty blames Dipika and Megha of faking. Romil and Surbhi indulge in a heated argument. Deepak tries to pacify Romil and Surbhi.   
#SurbhiRana ke aankhon mein aagaye aansu aur #RomilChoudhary bhi hain naraaz. Kya hai yeh Happy Club ka the end? Stay tuned! #BB12 #BiggBoss12

— COLORS (@ColorsTV) November 9, 2018
9: 40 pm: Bigg Boss announces a special Diwali surprise for the housemates. As part of the Diwali surprise, housemates get delicious food delivery.  
9:35 pm: Karanvir gets emotional and praises Deepak, Romil, Somi and Surbhi's bonding with each other. Jasleen is upset with Sreesanth. She says Sreesanth is a confused person. Surbhi dedicates a song for Deepak. Romil, Somi, and Deepak get emotional after listening to the song.  
9:31 pm: Housemates blame Dipika for supporting Karanvir during the captaincy task. Sreesanth and Dipika discuss the captaincy task.  
9:25 pm: The second round of captaincy task begins. Dipika disqualifies Megha from the captaincy task. The third round of the captaincy task begins between Karanvir and Romil. Romil gets eliminated from the task. Karanvir wins the captaincy task. 
9:22 pm: Dipika announces Somi's name for elimination from the captaincy task. Somi and Surbhi argue with Dipika for her wrong decision.
9:16 pm: Deepak and Romil discuss game strategies with each other. Deepak then discusses the captaincy task strategy with Sreesanth. Romil, Somi, Karanvir, and Megha start the captaincy task. Megha gets eliminated from the task. Dipika gets confused and asks Bigg Boss for his advice. The first round of captaincy task is over. Bigg Boss asks Dipika for her decision. 
9:12 pm: Sreesanth shares his initial struggling stories with Megha, Rohit, and Shivashish. Dipika announces new captaincy task to housemates. Dipika will be the coordinator of the task. 
9:07 pm: Bigg Boss 12 contestants wake up to the song Do Dhari Talvar song. Sreesanth and Deepak discuss the nomination task. Surbhi talks about Deepak and Sreesanth's bonding. Surbhi says Romil and Deepak love Sreesanth. Sreesanth talks to Megha and says he will not support Dipika as she always favours Karanvir. 
8:33 pm: 
Here's a glimpse from tonight's captaincy task! @meghadhade, @KVBohra, #RomilChoudhary or #SomiKhan, which contestant do you think will win? Watch #BB12 tonight at 9 PM. #BiggBoss12https://t.co/4JOML5c0HX

— Bigg Boss (@BiggBoss) November 9, 2018
8:30 pm:
#RomilChoudhary, #SomiKhan, @meghadhade aur @KVBohra hain taiyaar capataincy haasil karne ke liye! Kaun maarega yeh baazi? Dekhiye #BiggBoss12 mein aaj raat 9 baje. #BB12 pic.twitter.com/X6sq0LkMCb

— Bigg Boss (@BiggBoss) November 9, 2018