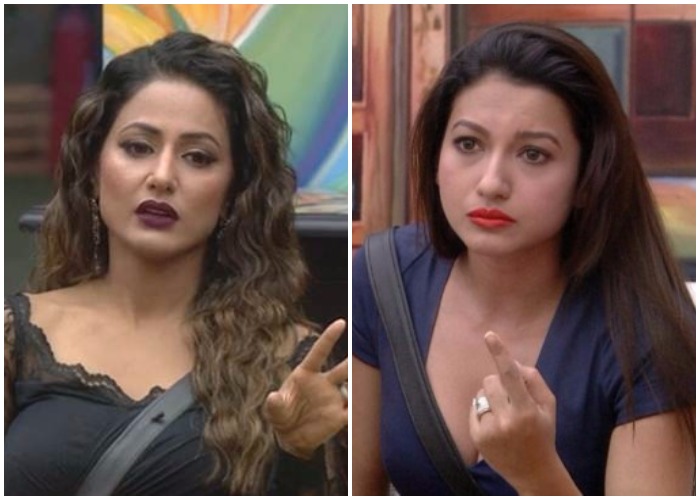 Hina Khan and Gauhar Khan, the two 'Khans' who hogged the headlines more than the three 'Khans' of the industry on a whole. The reason was Hina Khan's low remarks of Gauhar Khan's popularity. She not only mocked Gauhar, but also dragged Dangal actress Sakshi Tanwar in her 'Chugli' sessions on the show. This didn't go well with neither of Gauhar Khan and Sakshi Tanwar's fans. Hina demeaned Gauhar Khan by saying that the ex-Bigg Boss winner doesn't even have half the fans she has. (The reality is however different).
Many TV celebrities came out in support of the Begum Jaan actress, including Kishwer Merchant and popular VJ Bani J. Yeh Hai Mohabbatein actress Anita Hassanandani also tweeted in support of her. But recently, Gauhar Khan herself posted a message on her social media, which was sent to her by someone she has worked with. The actress however didn't reveal the identity of the admirer. Here's how the message goes.
So I really wanted to share a message I got on WhatsApp yesterday from someone I've worked with in the past but don't personally know, which brought me to tears with all that has happened in the last few days.... From all the support, love n appreciation to all the gaalis,jahaalat n hatred, this message made me realise how we must only feed off on the good n only the LOVE... So not sharing the name but you know who you are n u hold a v special place in my heart now, so thank you ... Here is the msg...... 'Dear Gauhar , saw hinas popularity remark video yesterday and thought of sharing something with you - the entire LGBT  community in this country wants 2 things one is to dress like Sonam Kapoor and second to look like Gauhar khan , here's to everytime we grooved on Challa wallah and felt happy right from our hearts , the world has seen how u stood for your friends in the biggboss house not even caring about staying in the show , my mother , my maid and my young nephew all know who is Gauhar khan just to let you know how ppl of all age group know u and that's real fame , if twitter and insta followers accounted popularity then Kareena Kapoor and Aishwarya rai are nobody's cause they are not even there on insta or twitter , beyond everything the way we have seen you loving your mother you're blessed , may happiness always finds the fastest route to your life always , more power to you gurllll , shine always , heartfelt wishes ' thank u , #dedication
​
In the post, the admirer made a point that if followers on social media decided fame, then Kareena Kapoor Khan and Aishwarya Rai Bachchan are nobody as they are not even there on social media. Gauhar Khan is deeply touched by this gesture.
For a couple of weeks, Hina Khan is receiving criticism from all the quarters for being a motor-mouth on popular reality show Bigg Boss 11. It seems like not only losing friends in the house, she's losing friends in outside world as well. We hope she mends her ways before it's too late for her.