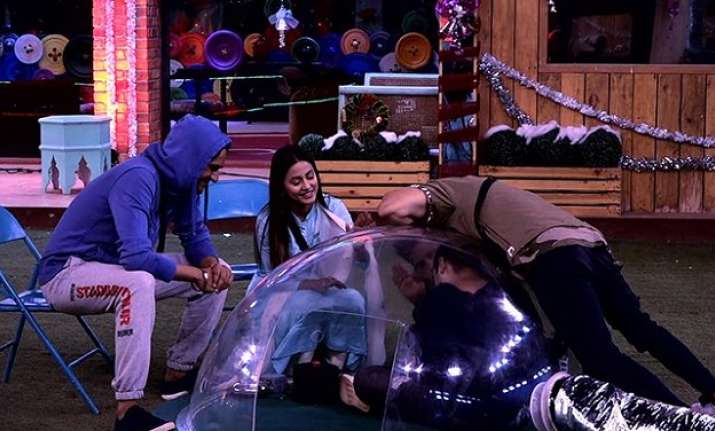 After the entertaining Weekend Ka Vaar, Bigg Boss 11 nomination episode is all set to kickstart tonight. This week Bigg Boss will announce a very interesting nomination as well as luxury budget task. As captain Hina Khan and Vikas Gupta are safe for the next week, the five remaining contestants will get inside a dome one by one and get out after pressing the buzzer in 42 minutes. Today, the contestants are given a true test of time. With no watch clock or sun-dial to assist them, the gharwale have to accurately track a total of 42 minutes, whilst confined within the Nomination Dome. Adding to the complication, the rest of the contestants have to distract the one inside the dome and stop them from pressing the buzzer and exiting the dome on the 42nd minute. Only the contestants who manage to perfectly keep track of time will be safe from nomination this week.
Iss hafte ke nomination task mein gharwalon ko rakhna hoga waqt par pehra! Tune in tonight at 10:30 PM only on #BB11. #BBSneakPeek pic.twitter.com/HmxRwiK7Vj

— COLORS (@ColorsTV) December 25, 2017
Here are the LIVE updates of Bigg Boss 11 Day 85 December 25 Episode.
11:28 pm:  Hina Khan announces Bigg Boss has given Christmas treat to everyone. The housemates celebrate the festival with Dominos pizza and Appy Fizz and wish Merry Christmas 2017 to each other.
11: 17 pm: Luv is upset with Priyank's behaviour during the task. Hina says Priyank has no control over what he says. Puneesh and Akash rejoice after getting saved from nominations. Luv and Priyank wish each other luck. Hina confesses to Luv that she distracted everyone 
11:13 pm: Bigg Boss says that none of the contestants was able to sit inside the dome for exact 42 minutes. However, Luv and Priyank become the least performing contestants and get nominated for eviction this week. Puneesh and Akash are just too happy that they are saved from nomination this week.
11:12 pm: Hina and Luv discuss about Priyank and say that he is no longer their friend.
11:08 pm: After Luv, it is Shilpa Shinde's turn to sit inside the dome. Akash and Puneesh count for her while Hina, Priyank and Vikas try their best to distract the Bhabi Ji Ghar Par Hai actress. Luv tells Shilpa to play according to her own self. Puneesh says the time is over and Shilpa comes out from the dome saying that her counting went all way-wired and that might be nominated for eviction.
10: 55 pm: Luv Tyagi gets inside the Nomination Dome. Priyank, Shilpa and Vikas start irritating Luv all the way, Vikas locks Hina inside the house and doesn't let her enter the garden area. However, the telly actress breaks open the lock. Luv tries his best to stay calm. Hina tells him that he has exceeded the time limit as he comes out of the dome.
10:48 pm: Akash Dadlani is the next contestant to enter the dome. Akash raps inside the dome and Priyank says that he is so chilled. Shilpa is busy counting the exact 42 minutes. Vikas Gupta tries to distract her by taking her hands and dancing with her. Priyank scares Akash with garlic (which he is allergic to). Hina says do not trust her as she was also counting for Akash.
10: 45 pm: Priyank enters the dome next. Shilpa, Akash and Puneesh are all prepared to distract him to the fullest. Priyank. Akash farts in the dome. Puneesh. Hina tells Priyank he is exceeding the time.
10:43 pm: Vikas and Priyank discuss that Akash has become one of the strongest contenders in the show. Hina Khan is seen talking and plotting to distract the other contestants in the Bigg Boss 11 nomination task.
10: 40 pm: Puneesh Sharma is the first contestant to enter the Nomination dome. Vikas, Hina, Luv Tyagi and Priyank Sharma try their best to irritate him. Luv brings papaya and puts it inside the dome as Puneesh just can't stand the fruit. Shilpa and Akash, on the other hand, are busy counting the exact 42 minutes.
10: 30 pm: Housemates wake up to popular song Chaar Baaj Gaye. Akash Dadlani calls Vikas Gupta as Rondu number 1 and Shilpa Shinde and Puneesh Sharma join the rapper in all the fun. Meanwhile, Vikas discusses with Priyank that everyone just loves to make fun of him.