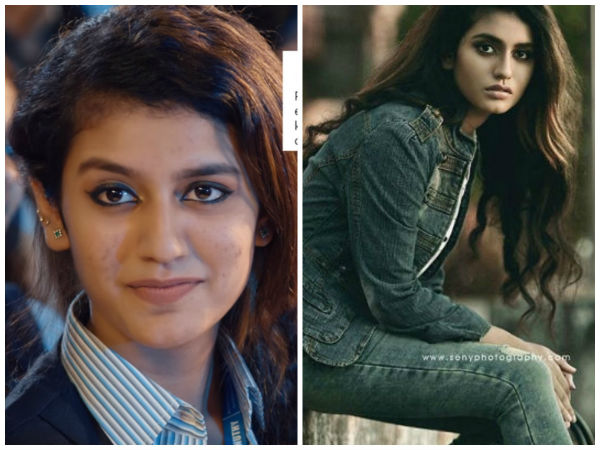 Priya Prakash Varrier, better known as the winking girl, has taken the internet by storm. The Malayalam sensation has become every Indian man's Valentine dream owing to her flirty expressions in the song titled Manikya Malaraya Poovi. The viral song, which is composed by Shaan Rahman and sung by Vineeth Sreenivasam is from her Malayalam debut film Oru Adaar Love. Priya is ruling the internet for the past few days and now, she has come to the forefront to express her happiness.
Talking about her trending wink, Priya Prakash Varrier said that she was simply following directions from the filmmaker. "The director wanted me to play with my eyebrows in a certain way. It's a mappila song (rhythmic songs in the north Kerala tradition) that has been recreated for the film. And there's a scene where this girl and this boy converse through expressions — and the director wanted a certain mannerism. I just followed his instruction," the 18-year-old actress was quoted as saying to Hindustan Times.
The Malayalam actress further revealed that her mailbox is full of messages from men asking her out for a date on Valentine's Day.
When quizzed about whether she has someone special in her life, the actress said that studies and career come first.
"There's no one special in my life. My studies and my dream of becoming an actor are the two focal points of my life. On Valentine's Day, I'll have to go to college because attendance is a problem. I'm not thinking much [about getting mobbed] — after all, I go to a girl's college", Priya Prakash Varrier added.
On her song going viral, Priya tweeted, "Thank you so much for the love and support for #ManikyaMalarayaPoovi #OruAdaarLove. 4.3 Million views for YouTube & counting, 600k+ for me going bigger in Instagram".
The song, Manikya Malaraya Poovi, that made Pirya famous, is from an upcoming Malayalam movie Oru Adaar Love and the song released on YouTube on February 9. In case you missed it, you can watch it right here.