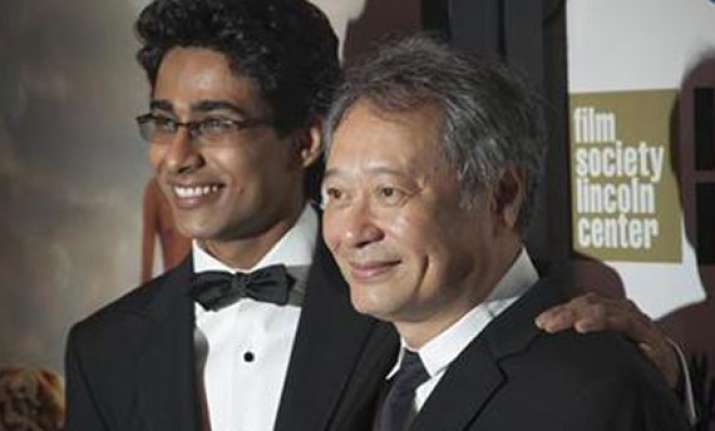 New York, Nov 5: Ang Lee took on a hefty task with his latest project "Life Of Pi" -- translating a bestselling book about a shipwrecked boy and a tiger to the big screen.
The Oscar-winning, Taiwanese-born director decided it was best not to take the wildly popular fable by Yann Martel too literal.
"Here's the thing, I think a good movie should be a provocation of people's emotions and thoughts. I can never compete how good the movie might be in viewer's head. How they make it up. So we have a saying, less is more. Sometimes you cannot be too enthusiastic about expressing yourself, you have to leave some room and create rooms for people pour in their imaginations," said Lee.
Lee handpicked newcomer, 17-year-old Suraj Sharma from 3,000 candidates for the title role of the boy who drifts on the open sea with a tiger, zebra, orangutan and a hyena, saved after a ship carrying the rest of his family sinks.
"I mean he just really changed me," said Sharma of Lee. "He made me more aware of just life in general, he made me want to make movies, he made me want to tell stories, he's just really an inspiration you know. And the fact that he is such a genius, he's so good at what he does and when you meet him he's just so simple and so normal and so nice and so grounded."
After spending months dieting to capture his character's ship-wrecked, starving physique, Sharma admits he was excited to get back to India for some home cooking.
"My first big splurge, well I didn't eat - I was losing weight till the last day in Taiwan. Then I went back home and I had butter chicken and butter naan. It was good," he said.
Lee spent nearly four years filming "Pi" in his home of Taiwan and in India. He admitted he was nervous about bringing the movie to India during the next leg of his worldwide promotional tour.
"I'm a little nervous because Yann Martel write this book because India has this otherness, there's a distance when you create a story, like a fable. But for Indians this is their home, there's no difference.
"In making movie I have to be more realistic than the book which is very direct, picturesque, what you see is what it is. So I think I make an attempt to make it more realistic.
"I hope the audience, I can only hope that it will have that advantage of familiarity and not violate what they are familiar with. At the same time allow a story to happen, which is distance. I hope the movie work as a movie for them, truly."
"Life of Pi" opens in U.S. theaters Nov. 21.