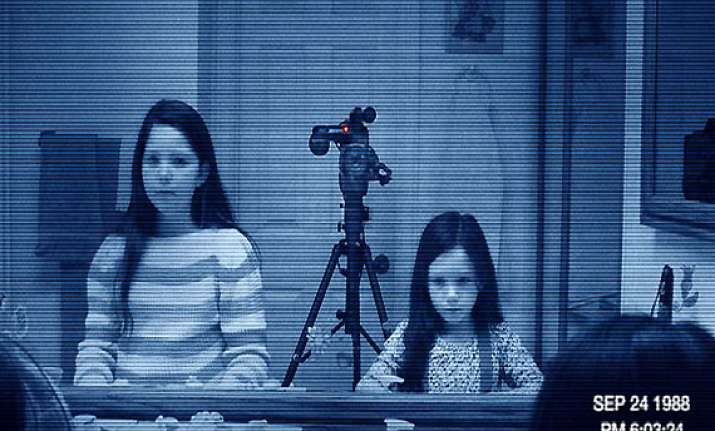 London, Oct 21: Paramount's Paranormal Activity 3 is expected to rake in more than $30 million opening, says source.

The film opens around the globe this weekend, while international box office hits Johnny English Reborn and The Three Musketeers move into North America.

Box office observers expect Paranormal 3 — a prequel — to gross in the mid-$30 million range, which would put it behind the $40.7 million opening for Paranormal Activity 2 on the same weekend last year.

Paramount cites the overall downturn at the box office as the reason for projected lower opening, but says Paranormal 3 faces a distinct advantage in that there is no Saw installment to compete with this year.

The Paranormal Activity franchise, produced by Jason Blum, Oren Peli and Steven Schneider, has been one of the most profitable film series in recent memory. The first Paranormal, which cost $15,000 to produce and opened in a limited run in September 2009, went on to gross $193.4 million worldwide.

Paranormal 2 cost $3 million to produce, and grossed $177.5 million worldwide. The threequel, with a production budget is pegged at $5 million, also opens this weekend in numerous foreign territories.

Earlier this week, Paramount hosted sneak screenings of Paranormal 3 in 20 cities across the globe. More often than not, moviegoers ages 18-25 were the core demo, while females turned in force.

 "The Three Musketeers" and "Johnny English Reborn" make their U.S. debuts; specialty pics "Martha Marcy May Marlene" and "Margin Call" open after scoring Gotham nominations.

The fourth wide release of the weekend is Mighty Macs, a biopic of Cathy Rush, the Hall of Fame women's basketball coach who led her Catholic college team to the national championship in the 1970s.

The specialty box office sees two high profile titles enter the U.S. marketplace — Fox Searchlight's Martha Marcy May Marlene and Roadside Attractions' financial drama Margin Call. On Thursday, Martha Marcy picked up three top Gotham Award nominations, while Margin Call earned one. Submarine Deluxe opens Being Elmo: A Puppeteer's Journey in one theater in New York. Narrated by Whoopi Goldberg, the film follows the puppeteer behind the beloved Sesame Street character.

Neither Three Musketeers, distributed by Summit Entertainment, nor Universal's Johnny English Reborn are expected to be big players in their domestic box office debuts, despite their success overseas.

Three Musketeers, costing $90 million to make and produced by Germany's Constantin Films, is expected to open in the low double digits at the domestic box office, and is tracking best among older males. Constantin financed the $90 million film, with Summit handled international sales, in addition to picking up U.S. rights.

The 3D action-adventure has been a strong player overseas, with a cume to date of $48.2 million. This weekend, Three Musketeers continues to roll out overseas, including in Eastern Europe, Latin America and Asian markets.

Both Paranormal 3 and Three Musketeers go out in north of 3,000 theaters domestically, while Johnny English Reborn, starring Rowan Atkinson, only opens in 1,551.

While Atkinson has a huge following overseas, he's not as popular in the U.S. That's why Universal is only predicting a weekend opening in the $5 million to $6 million range (the original Johnny English opened to $9 million domestically).

Johnny English Reborn is a runaway hit internationally, and is poised to jump the $100 million mark this weekend worldwide. It's opened No. 1 almost all of the 43 foreign markets where it's been released, and goes out in six additional territories this weekend, including France.

Mighty Macs, starring Carla Gugino, opens in 975 theaters and will likely play best in America's heartland.

Roadside Attractions is opening Margin Call, written and directed by J.C. Chandor, in 56 theaters in top markets across the country — as well as offering the film simultaneously on VOD. Some theater owners weren't crazy about the plan, but will likely receive a portion of the VOD proceeds (generally speaking, exhibitors are more lenient when it comes to indie films and day and date releases).

Margin Call, which charts the 2008 financial meltdown, stars Kevin Spacey, Zachary Quinto, Paul Bettany, Jeremy Irons, Demi Moore and Stanley Tucci, and earned a Gotham Award nomination for best ensemble performance.

Martha Marcy earned three nominations — best breakthrough performance for Elizabeth Olson, best ensemble performance and best breakthrough director for Sean Durkin.

Searchlight acquired Durkin's psychological thriller at Sundance earlier this year, and will open the film in four theaters in New York and Los Angeles.