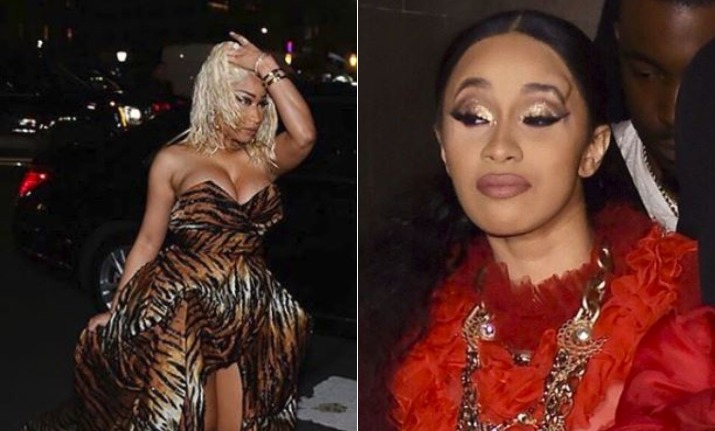 Last Saturday, the internet broke on a viral video featuring new mother Cardi B and Nicki Minaj indulged in an ugly brawl. The two got involved into a heated altercation during a party in New York. The videos captured by Eonline! And fellow guests were doing rounds on the internet.
Breaking her silence after a huge fight with Cardi B at New York Fashion Week (NYFW), Nicki Minaj said she was "mortified" by the bust up.
The 35-year-old addressed the incident which went down at Harper's Bazaar Icons party on her Queen Radio show. "The other night I was a part of something so mortifying, so humiliating to go through in front of upper echelon people - it's not about black or white - people who have their lives together," she said, as reported by E! Online.
Minaj - whose real name is Onika Tanya Maraj - added, "The way they passed by looking at this disgusting commotion, I will never forget. I was mortified."
The rapper also defended herself in response to Cardi's accusations that Minaj had made disparaging remarks about her ability to be a good mother. Minaj said she would never talk about anyone's child or parenting.
"I don't care about anyone's parenting. I don't give a s--t and it's so crazy to me that people always need to make Onika the bad guy."
"I just want to let the world know that Onika Tanya Maraj would never, has never and will never speak ill of anyone's child," she concluded.
On the other hand, soon after the fight, Cardi B wrote a full-fledged post on Instagram dedicated to Nicki Minaj. She wrote, "I addressed you once in person, I addressed you a second time in person, and every time you copped a plea! But when you mention my child, you choose to like comments about me as a mother, make comments about my abilities to take care of my daughter is when all bets are f***kin off! I've worked too hard and come too far to let anybody f**k with my success!"