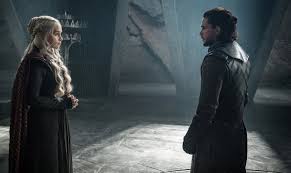 Summer of 2019 is bound to be ice-cold for the real world as the final season of "Game of Thrones" gears up to hit HBO on April 14. However,  Maisie Williams believes it does not matter who sits on the Iron Throne at the end of "Game of Thrones", fans will not feel satisfied the way the show closes.
In the HBO show, Williams plays Arya Stark, the tenacious girl who suddenly grew up after her father's public execution to become a focused, revenge seeking warrior. 
The 21-year-old actor said it is the "right time" that the show was coming to an end and she was proud of it.
"I don't know that anyone is going to be satisfied. No one wants it to end, you know, but I'm really proud of this final season. 
"I've always felt ashamed to say things like that, but I am. I'm really proud of all the work we've put it, for me it's the right time. I hope people like it," she told Sky News.
Several theories surround the much-awaited climax of the epic fantasy series, that first aired in 2011.
#GameofThrones returns to @HBO this April. pic.twitter.com/1muHcwJIFJ

— Game of Thrones (@GameOfThrones) January 7, 2019
It was being said that the makers had decided to film multiple endings of the final season after suffering from major leaks in 2017 but Williams dismissed the reports. 
Earlier Sophie Turner said she is "terrible" at keeping secrets and has already outed "Game of Thrones" much awaited climax. The actor, who plays Sansa Stark in the hit HBO drama series, said the more unfortunate part was that she was "sober" when she gave away the ending. "I'm so bad at keeping secrets. I don't think people tell me things anymore because they know that I can't keep them. I've already told the ending of 'Game of Thrones' to a few people.
"(I was) sober. I was like, 'Hey, if you want to know, I'll tell you.' But it's people that I know, not random people. It's people that I know will keep the secret," Turner told W magazine.
The 22-year-old actor, who used to dye her hair red for the show, later in the series opted for a wig. "It gets very greasy. It never used to be like that. I think it's because I wear a wig on 'Game of Thrones', so the glue gets stuck in my hair, so I had to wash it every day and my hair is now used to that. "If it's any longer than two days, it gets greasy," she said.
(With PTI Inputs)