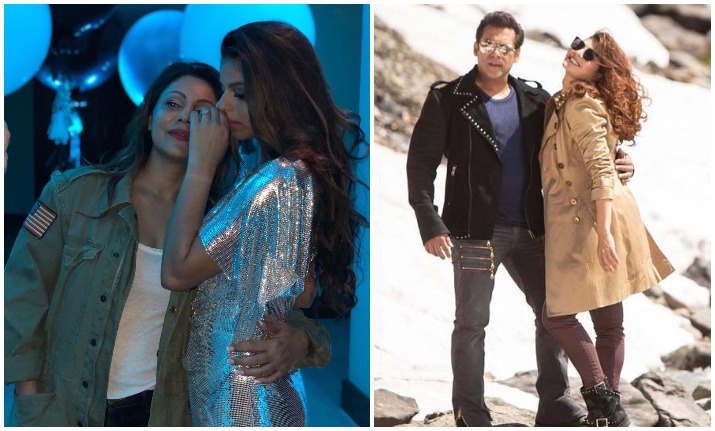 Bollywood fans get to see the sneak peek of what their favourite celebrities are up to. Thanks to Instagram and Twitter. Be it Shah Rukh Khan or Deepika Padukone, our beloved film stars never miss to update their fans about their personal as well as professional life. While Alia Bhatt is enjoying brunch date with her bestie Akanksha Ranjan Kapoor, Salman Khan posted a picture from Race 3's Kashmir shooting schedule with gorgeous Jacqueline Fernandez. Let's have a look who are the best celebrity Instagrammers of the week.
Salman Khan in Kashmir with Jacqueline Fernandez
The Race 3 actor shared a picture from Race 3 shoot shot against the backdrop of snow-clad mountains of Jammu & Kashmir. The picture, which was shared to express gratitude to J&K tourism, also featured Jacqueline Fernandez. Major segments of Race3 have been shot in Kashmir, including the song Selfish.
Sharing the picture, he wrote, "hank you #Jammu & #Kashmir tourism for all the support and the wonderful experience for #Race3 . #Race3 #Race3ThisEid."
Shah Rukh Khan shares picture of wife Gauri Khan with daughter Suhana
Bollywood superstar Shah Rukh Khan shared a candid picture of wife Gauri Khan and daughter Suhana Khan. In the caption, he wrote, "Was reading and came across this line....' Life doesn't come with a manual, it comes with a mother ' and then this picture of the ladies...sach hi hai!!"
Anushka Sharma and Virat Kohli's new furry friend
Anushka Sharma and her husband Virat Kohli's love for animals is not unknown for their fans. Recently, the actress flew to Bangalore to spend some quality time with hubby dearest and attend an award ceremony felicitating the Indian cricketer. A couple of days ago, Anushka and Virat shared a picture which has received over 1 million likes on Instagram. Want to know what's special about it? Have a look at it yourself.
Yami Gautam gets a new look for Uri
Kaabil actress did a hard job for her upcoming film Uri. For her role, Yami Gautam was required to chop her beautiful mane off. The actress, who is always up for challenges, gladly agreed to get a haircut. She even shared the video of getting her hair cut on Instgram. Have a look.
In her latest Instagram picture, she thanked for the overwhelming response she received from her fans for her new look.
Alia Bhatt's brunch date with bestie Akanksha Ranjan Kapoor
Brahmastra actress Alia Bhatt is making all the headlines recently for her dinner dates with beau Ranbir Kapoor and his family. However, amidst balancing her work and love life, the actress found some time for her best friend Akanksha Ranjan Kapoor. She recently shared a picture of her chilling with her BFF.